The NewCo/CoreCo nomenclature makes for clarity, but it can also make for tedious reading. Fortunately, the authors leaven their writing with stories drawn from their research, and these show how difficult it can be, even for star innovators like Corning Inc. and Hasbro Inc., to find the right dynamic blend of forgetting, borrowing, and learning. There are some excellent chapters on the ways in which corporate behavior that would be perfectly reasonable in the CoreCo environment can actually inhibit learning in the NewCo context. Given the wide range of potential applications, it's not entirely surprising that the 10 "rules" presented by the authors (produced, no doubt, by a demand for "take-aways") are a mélange of assertions and injunctions. There are, however, a few useful guidelines: NewCo's organization and planning process must be built from scratch, not borrowed from CoreCo, and the NewCo management must be held accountable for learning rather than for results. This latter requirement, which will almost certainly be at odds with the performance management culture within CoreCo, is just one of the challenges of strategic innovation for established organizations.

---
Then We Set His Hair on Fire: Insights and Accidents from a Hall-of-Fame Career in Advertising
By Phil Dusenberry
Portfolio, 2005
304 pages, $24.95
---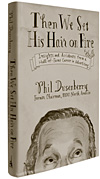 Phil Dusenberry is the former chairman and chief creative officer of the advertising agency BBDO, the flagship of the Omnicom media empire. The title of his new book is derived from the notorious film shoot for Pepsi-Cola starring Michael Jackson, when a flame leapt from a special effects firework to set the pop idol's hair alight. Jackson came away with minor burns; Pepsi reaped a huge bonus from the attendant publicity.
The book is about insights in business — how to get them, how to recognize them, and how to keep them coming. For Mr. Dusenberry, insight is the pivotal mediator in what he calls the "linear matrix" of research, analysis, insight, strategy, and execution (RAISE for short). Insights are powerful understandings that generate ideas for action, which allow products to stand out in what the author calls a "parity economy" — an economy in which most products are regarded as much the same. And that's where insights come in, often from unexpected places. BBDO believes, for example, that customers are most candid about their feelings when they are complaining about a product or service, and thus complaints are a fertile source of insights. Insights often require in-depth research. In England, a research assistant sat in a café for five days, eavesdropping on the conversations of young women, and discovered that they were deterred from smoking by appeals to their vanity — worries that their faces might wrinkle — rather than by any concerns about their health. This kind of research, applied common sense, need not cost a lot of money; it can be done by anyone, and the payoffs can be huge.
If advertising is to "move the needle" — to make a real difference — it demands a marriage of logic and emotion: research and analysis to uncover the truth, and emotion to express it in a compelling way. Insight is the go-between in this relationship. The final chapter of the book contains 18 guidelines (not rules) for creative directors on how to build and sustain an insight-generating machine. None of them are new and many have been expressed before by advertising legends like David Ogilvy, but the fact that they bear repeating here underlines how difficult it can be to follow them in practice.

Reprint No. 06112
Author Profile:
---
David K. Hurst ([email protected]) is a contributing editor of strategy+business. His writing has also appeared in the Harvard Business Review, the Financial Times, and other leading business publications. Mr. Hurst is the author of Learning from the Links: Mastering Management Using Lessons from Golf (Free Press, 2002).