In short, this study looks back on the full careers of each year's "graduating class" of CEOs, and isolates the factors that contributed to the success of some and the failure of others. Each year, we have expanded the number of factors we consider, to uncover additional information about the relationships among boards, management, and corporate performance.
Global CEO turnover set a new record of 15.3 percent in 2005, a rate 70 percent higher than it was 10 years before. All regions experienced high turnover: Japan reached a record level, whereas the other three regions all recorded their second-highest turnover rates. (See Exhibit 1.)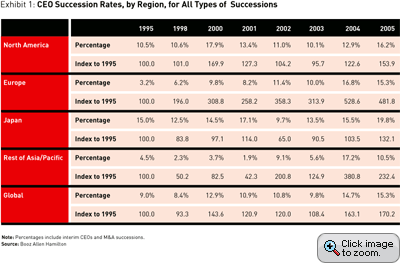 The same global consistency is apparent in the types of turnover. Although only "regular" turnover set a global record in 2005, both performance-related and merger-driven turnover hit their second-highest levels. (See Exhibit 2.) Looking across regions, performance-related turnover set a new record in North America, where 35 percent of CEOs who left office were forced out, and both Europe and Japan experienced near-record levels. Merger-driven successions, reflecting the continuation of a new, robust cycle in M&A activity, were at their highest level globally of any year other than 2000.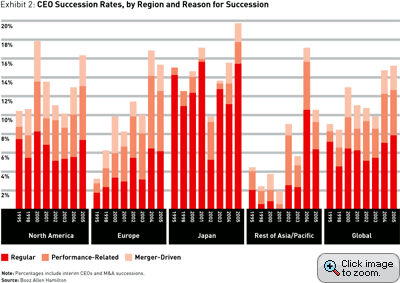 Exhibits 1 and 2, in essence, chart one ongoing effect of the recent wave of governance reform — the removal of CEOs who persistently perform poorly for investors. Over the last 10 years, the rates of total CEO turnover and performance-related turnover have risen fairly steadily, with an early peak during the stock market crash of 2000, but then a continued rise.
As important as the trend, however, is the sea change from 1995 to 2005: The firing of underperformers quadrupled. Fewer than half of the outgoing CEOs in the U.S. and Europe left office willingly. There are always a few high-profile cases involving ethics or personal behavior, but the vast majority of those forced out of office were ousted because of poor performance. The transformation this represents in management thinking and business supervision is profound. A decade ago, becoming CEO of a major corporation was the pinnacle of a career, often the reward for a lifetime of service. Chairman as well as CEO, the executive could expect to remain in office until a regular retirement. Consistent with these expectations, two-thirds of departing CEOs in 1995 were 62 or older. The CEO's focus was stewardship: preserving the company to pass along to his or her successor.
But in 2005 a different model of CEO took hold. CEOs today may still be as well known and well compensated as their predecessors, but now many of them can be terminated like any other employee. Chief but not chairman, today's typical CEO knows that he (almost all the departed this year were men) will remain in office only as long as performance for investors is acceptable. No longer can the CEO expect to prolong his career by "managing" the board. The CEO's insider allies typically are gone or less powerful; independent directors meet in executive session to review the CEO's performance. Except in Japan, a CEO can't expect to retire in office. Globally, only 40 percent are 62 or older when they leave office.
Finally, since returns to investors reflect the change in a company's value, the pressure on corporate performance is not focused just on quarterly results, but on sustained growth. Stewardship isn't an aggressive enough objective for investors. The world of 2005 is much more demanding and uncertain for both companies and their CEOs.
Our hypothesis is that this is the "new normal." The pressures on companies, and thus on CEOs, will never return to the (already demanding) levels of the 1990s.