The first strategy is selecting a "prior CEO," someone with past experience as chief of another large public company. Some examples of those who left office in 2005 include turnaround specialists (like Jim Kilts, who had led Nabisco before becoming CEO of Gillette); chairmen who were previously CEOs of the same company and retook the position (Phil Knight at Nike); independent directors with former CEO experience who assumed the role (Jack Michaels at Snap-on); and former CEOs whose company had been acquired (Harry Stonecipher at Boeing).
For many boards involved in recruitment, prior CEOs appear to bring two major advantages. Two-thirds of them have a track record of creating superior returns for investors. Moreover, they've already mastered the challenges facing a new CEO, such as working effectively with a board of directors, communicating with investors and security analysts, developing and implementing a strategy, and balancing the demands of multiple stakeholders. These are all increasingly difficult challenges because of today's activist investors and the aggressive tactics put forward by unions and issue advocacy groups. Perhaps because of these ostensible qualifications, the number of CEOs with prior experience has been increasing (at least to judge from our study of those departing). (See Exhibit 5.)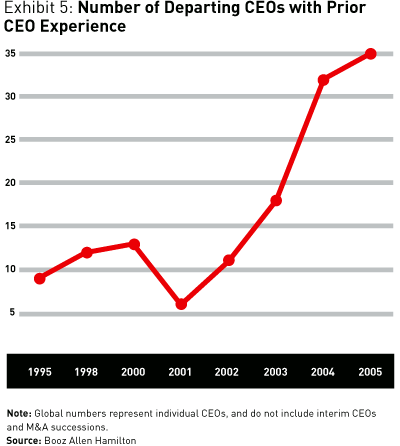 Yet despite expectations, prior CEOs perform slightly worse than new, previously untested CEOs. Although the difference isn't statistically significant, the pattern — we call it the "old dog syndrome" — has been the same in seven of the eight years we've studied.
The message to boards: The presumed benefits of hiring someone with previous experience as a CEO are a mirage. Don't value that experience as highly as experience in the company at hand, in the industry, or with the types of challenges that must be confronted by your company (and that may well have contributed to the loss of your former CEO).
Beggar Thy Neighbor
The second succession strategy is the hottest recent trend in CEO recruitment: poaching. In this variation of the "prior CEO" idea, boards reach for a currently successful CEO at another of the largest 2,500 corporations. In 2005, Office Depot took Steve Odland from Autozone, Mark Hurd shifted from NCR to Hewlett-Packard, Paula Rosput Reynolds moved from AGL Resources to Safeco, and Martin Flanagan from Franklin Resources to Amvescap. (In Exhibit 5, these "prior CEOs" are included among the "departing CEOs with prior CEO experience.")
The phrase we use for this approach is "beggar thy neighbor," since the companies left behind also have to find a new replacement. Indeed, recruitment of active CEOs can cascade across the economy. For example, after scandal forced the ouster of Boeing's Harry Stonecipher, the aircraft manufacturer hired 3M's James McNerney; 3M in turn reached for George Buckley, then at Brunswick.
Evidence that this trend is increasing can be found in Exhibit 6, which shows the number of active CEOs who left office each year to take another chief executive position. In 2005, these moves represented about 6 percent of the new CEOs at the 2,500 companies studied.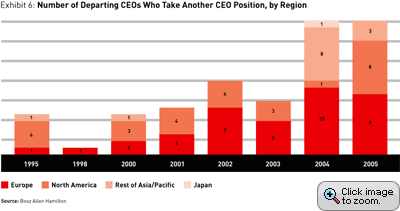 This strategy may reflect the widely held belief that executive leadership is a generic skill set, not specific to either industry or company. Whether or not that belief is true, our hypothesis is that it will influence behavior in ways that are negative for the global economy. One immediate effect, shown by management scholars such as Harvard's Rakesh Khurana, is a further increase in CEO salaries — not only the additional compensation required to motivate a chief to change jobs, but also defensive increases in compensation on the part of companies trying to retain their CEOs. Replacing the poached CEO also causes significant disruption and lost opportunities within the raided company, especially while an interim CEO is in place and the new CEO is coming up to speed.