He begins by establishing a sound statistical foundation for his arguments. His method, which he calls "rate of change in economic tracking" (ROCET), stresses the importance of small changes in rates of growth of economic indicators rather than absolute movements. He contends, for example, that the economic concept of a recession, defined as a period of time with negative economic growth, is useless for forecasting purposes. In addition, much economic data is confusingly volatile because it is reported as month-on-month or quarter-on-quarter change. ROCET focuses on graphing year-over-year change of PCE and other variables over long periods of time. When such changes in PCE are graphed together with a dependent variable such as corporate profits, the relationships among them become clear. The results bolster Mr. Ellis's arguments that PCE is the prime mover in developed economies.
Once he has established ROCET as his method, Mr. Ellis goes on to examine the relationship between changes in PCE and several key economic indicators, including employment, capital spending, and stock market levels. He then turns to the drivers of PCE itself, such as real hourly earnings, the influence of which can be modified by changes in employment levels and consumer borrowing.
The graphs throughout the book are essential to understanding the author's arguments, and they reward detailed study; the graphs themselves are a model of clarity. In addition, 20 of the most important charts are maintained and updated on an excellent Web site (www.aheadofthecurve-thebook.com). Here, too, the sources of key data are shown, along with hyperlinks to the various institutions that provide them.
Ahead of the Curve is an important book for every manager who needs to understand how to interpret economic data and deduce the impact that change in economic indicators can have on business activity. The book simplifies without being simplistic, and the author is always conscious of the systemic complexities of cause-and-effect in the economy. What comes across is the importance of clarity of focus and the discipline needed to base decisions on time-tested economic relationships, instead of chasing after the latest fads and pop explanations. This book contains everything you, as a manager, wanted to know about economic cycles but may never have dared ask.

---
Strategy Bites Back: It's Far More, and Less, Than You Ever Imagined
By Henry Mintzberg, Bruce Ahlstrand, and Joseph Lampel
Prentice Hall, 2005
296 pages, $29.95
---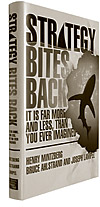 It has been 33 years since Henry Mintzberg wrote his first book, The Nature of Managerial Work (Harper & Row, 1973). In it he criticized the smooth, orthodox advice of management academics that managers should plan, organize, control, and coordinate, arguing that the fragmented, chaotic way in which they actually behaved was adaptive to the situations in which they found themselves. The Cleghorn Professor of Management Studies at McGill University has played this disruptive role ever since. In Strategy Bites Back: It's Far More, and Less, Than You Ever Imagined, he teams up with former collaborators (see Strategy Safari: A Guided Tour Through the Wilds of Strategic Management, Free Press, 1998) Bruce Ahlstrand and Joseph Lampel, professors at Trent University in Canada and the Cass Business School at the City University of London, respectively, to write and edit an anthology of pieces on the messy, paradoxical, and often contradictory nature of strategy making.
The intention of the authors is to take strategy rather less seriously and thus create better strategies — strategies that inspire the heart as well as please the brain. The result is a collection of 69 "bytes" (small morsels of writing by leading commentators in the field), followed by "bites" (critical comments from the authors). Organized in nine chapters — an introduction, seven points of view, and a conclusion — the book uses diagrams wherever possible to illustrate the ideas under discussion.
The sequence of fast thrusts and rapid ripostes makes for easy reading and gives the reader the ability to dip in and out of the book. As for the image of strategy, it advances and recedes by turns, like an object in a picture by M.C. Escher: First it's figure, then it's ground, and then it's figure again. Perhaps this is as good an understanding of the strategic dynamic as one can get. If strategy starts off as "figure," a text produced from the top of the organization, then to be effective it must become "ground," a context against which every member of the organization can see his or her own actions highlighted. If, on the other hand, strategy starts off as ground (or context, something implicit in the way the organization has developed), then it needs to become figure, to be articulated and made explicit, so that its hidden assumptions can be examined. This would seem to be the essence of the book's subtitle: Strategy truly is both far more and far less than we ever imagined.

Reprint No. 06214
---
David K. Hurst
(
[email protected]
) is a contributing editor of
strategy+business
. His writing has also appeared in the
Harvard Business Review
, the
Financial Times
, and other leading business publications. Mr. Hurst is the author of
Learning from the Links: Mastering Management Using Lessons from Golf
(Free Press, 2002).