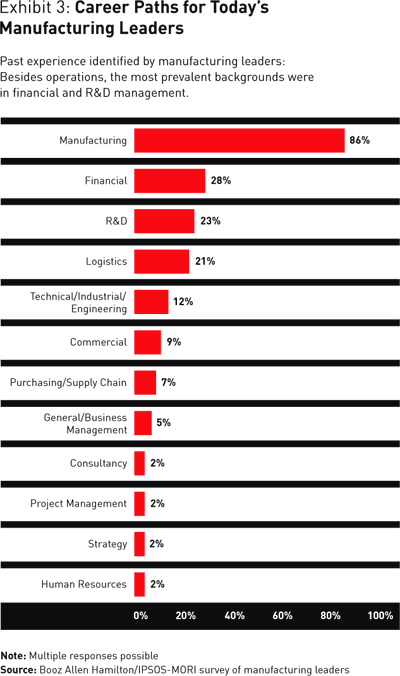 A leading European manufacturer of commercial vehicles reaped these benefits when the CEO assigned a former manager of sales and marketing to head production. Instead of a traditional honeymoon-period transition — concentrating on incremental shop-floor gains and the usual toolbox of operations enhancements — the executive used his sales and marketing skills to question the many myths that were holding back real manufacturing improvements. He raised questions that had not previously been addressed: What were the real customization needs for individual market orders? What were the effective order requirements on delivery speed and accuracy? What were the cost and price implications of recent changes in the company's market and in the needs of their major clients?
With an uncompromising customer-focused view, the executive encouraged his production team leaders and managers to reconsider every routine and detail of the production process and every element of customization in components and design of vehicles. The resulting redesign of the production system included new physical plant layouts, new material and material flows, new work processes, and new targets. This ultimately evolved into a sustained transformation program. In contrast to many such programs, it was driven by market needs and resulted in substantial competitive advantages by fulfilling market requirements at a very effective cost.
A cross-functional background is not necessarily a magic bullet. There is no single background or skill set for the head of manufacturing that will guarantee success. The broader the background, however, the greater the likelihood that the judgment brought to bear on complex decisions will be robust enough to justify them in the long run.
A Short Leash
When a company undergoes transformation, the manufacturing function is often expected to perform like any other function — even though major changes in manufacturing processes take at least 18 months to start showing results, whereas a marketing or accounting department can reorganize in much less time. In our survey, 42 percent of respondents said that any given investment in manufacturing must produce positive returns within 18 months to be considered successful. Slightly fewer respondents (40 percent) said that they have two to three years to show returns, and only 16 percent said that company management gave them longer than five years to generate a return. This shortsightedness can affect the long-term success of a company's manufacturing operations.
For manufacturing to overcome this challenge, the production chief must be able to emerge from the function's silo and convince top management of the value of long-term strategic change. Indeed, a long-term approach to manufacturing, supported by the company's leaders, can transform not only the function, but the organization. One of the more ambitious efforts of this type involved an American aluminum company, which selected an international group of manufacturing executives to travel around the world benchmarking and collecting best practices. They then translated these findings into a proprietary production system based on lean manufacturing and a judicious mix of TQM, Six Sigma, and other traditional quality improvement tools. This change was expanded into a company-wide business system, which calls for applying the logic to all processes in the organization.
However, this implementation didn't happen overnight, and it is still being refined and improved. Insiders estimate that it took approximately 10 years to put the process firmly in place. It simply takes that long to institutionalize the kinds of techniques and practices that guarantee continuous improvement and responsiveness, especially those designed to capture and retain a broad spectrum of technical knowledge about variability and key performance drivers.
Today, most heads of manufacturing do not have that much time. Even if they were allowed to initiate long-term agendas, their job instability precludes their seeing the agendas through. (See Exhibit 4.)