But if a supplier has the wherewithal to provide maintenance services to multiple, geographically dispersed locations and offers a significant discount for doing so, then the risks associated with the decision are escalated: The discount would be forfeited if each plant chose its own maintenance supplier.
Furthermore, since a multiplant contract would affect more than one plant, the scope of the decision has also increased. Consequently, a "high-risk, broad scope" cluster — at the level of territory, country, or even region — would be the best option for making the decision.
We recently applied the decision cluster approach to a global nongovernmental organization. (See Exhibit 1.) We developed decision clusters based in part on who had the right information and incentives to make each type of decision well. For example, a decision such as the selection of future project sites within a country would affect only a single office, and was relatively low risk and narrow in scope. This category of decision could be made at the local operating unit level, since there was little in the way of organizational perspective or risk protection to be gained by involving global headquarters.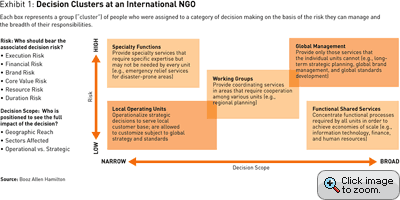 But other decisions, such as an investment in a organization-wide project management information system, would alter activities in virtually every location. These decisions required broader oversight that only global management could provide.
The cluster approach ensured that decisions were assigned to people who had appropriate information and perspective. By articulating the logic behind the decision-making clout of each cluster of people, this method manages the changing dynamics of the business environment much more effectively than a decision inventory alone.

---
Matt Calderone
(
[email protected]
) is a senior associate with Booz Allen Hamilton in New York. He specializes in organizational transformation, people issues, and change management.
---
Karla Martin
(
[email protected]
) is a principal with Booz Allen Hamilton in San Francisco. Her work focuses on the role of organization in driving growth and reducing complexity, and on change management.
---
Decio Mendes
(
[email protected]
) is a senior associate with Booz Allen Hamilton in New York. He works with clients to improve organizational effectiveness and operations efficiency.
---
Also contributing to this article were Booz Allen Hamilton Senior Associate Chris Click, Senior Associate Elizabeth Powers, and Associate Michelle Vandebraak.