In this year's study, we systematically set out to find which companies have been getting R&D spending right, and then to identify their common attributes. To do this, we analyzed financial data for the Global Innovation 1000 using seven performance screens — sales growth, gross margin percentage, gross profit growth, operating margin percentage, operating income growth, total shareholder returns, and market capitalization growth — from 2000 through 2005. We chose five years as an appropriate time horizon for measuring the effects of R&D expenditures. That may seem short for basic research, but the full life cycle for a single innovation in most industries is five years or less. That's because only about 15 percent of corporate R&D spending goes to research; the rest is spent on development and commercialization, which have much shorter time frames.
Analysis of the performance screens revealed that 94 companies within the Global Innovation 1000 — our high-leverage innovators — consistently outperformed their peers over the five-year period, while spending less on R&D as a percentage of sales than their industry median.
How did they do it? There's no silver bullet; we found examples of many different models and approaches. If these high achievers have one thing in common, it seems to be a focus on building multifunctional, company-wide capabilities that can provide them with sustainable competitive advantage. They design their innovation investment for the long run, and create superior growth and profitability over time.
Bucks versus Bang
Each year, Booz Allen studies the world's largest corporate R&D spenders to better understand how companies can maximize their return on innovation investment. We rank the 1,000 publicly traded corporations worldwide that spend the most on research and development as reported in their most recent annual financial statements. Private companies, and those public companies that do not disclose R&D spending (including most financial-services companies and retailers), are thus excluded from the Global Innovation 1000. (See "Methodology" at the end of this article.)
The 1,000 companies on this year's list spent a combined $407 billion on innovation in 2005, compared with $384 billion spent by the top 1,000 spenders in 2004. Altogether, for the companies included in the top spenders since 2000, R&D spending has grown 4.2 percent annually.
Global R&D spending is highly concentrated among the top 1,000. The next 1,000 companies together spent a mere $25 billion in 2005. We estimate that the Global Innovation 1000 accounts for about 85 percent of total global corporate R&D spending, and 55 percent of all R&D spending, including government and not-for-profit R&D. (See "Profiling the Global Innovation 1000," below.)
The Global Innovation 1000 companies spent a total of $407 billion on research and development in 2005, up 6 percent from 2004 — an amount bigger than the combined GDP of Denmark and Norway and roughly equivalent to the budget of the U.S. Department of Defense. The number one spender on R&D in 2005 was the Ford Motor Company, with a budget of $8 billion; number 1,000 was the Makita Corporation, a Japanese maker of power tools with a budget of $42.6 million. Spending is highly concentrated among the largest companies: The 20 largest R&D spenders accounted for $116 billion, or 28 percent, of the Global Innovation 1000 total.
This year, 164 new companies moved onto the list, accounting for 6.3 percent of total R&D spending. Of the 164 companies that exited, 35 were acquired by larger companies on the list; the rest were supplanted by other companies that spent more. The median of R&D as a percentage of sales for the Global Innovation 1000 was 3.84 percent in 2005, and has slowly but steadily declined from 4.09 percent in 2001. Most of this decline, it appears, can be explained by the increase in size of the average Global Innovation 1000 company: $10.5 billion in sales in 2005 vs. $8.5 billion in 2001. Larger companies generally spend a smaller percentage of sales on R&D than do smaller companies.
Industry Breakdowns
The distribution of R&D spending by industry reflects the relative size of the industries themselves. Thus, as shown in Exhibit 1, nearly two-thirds of the 2005 total was spent by companies in computing and electronics (26 percent), health (22 percent), and automotive (17 percent).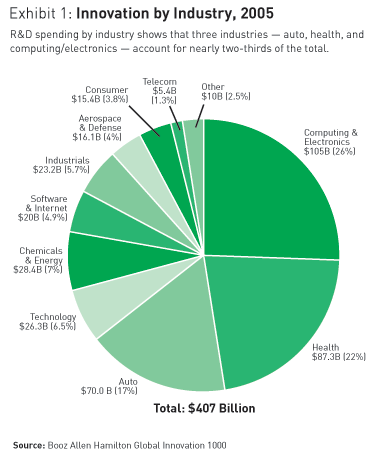 The R&D-to-sales ratio, as shown in Exhibit 2, illustrates the importance of innovation to an industry or enterprise — and shows the huge variations in this measure. Health companies were the most intense R&D spenders in 2005 (displacing the software category from the number one position that it had occupied in 2004), with a median ratio of 11.2 percent. At the other end of the scale, chemicals and energy companies spent a median 1.1 percent of sales revenues on R&D.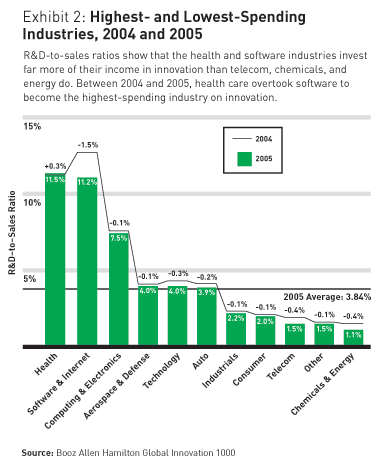 Regional Breakdowns
Since companies rarely disclose the geographic breakdown of research and development spending, this study assigns innovation spending to the region in which each corporate headquarters is located. This helps explain why innovation spending appears so concentrated in the industrialized world. The costs of Cisco's R&D facilities in Bangalore, Toyota's in Thailand, and Nokia's in Beijing appear within the totals for North America, Japan, and Europe, respectively.
But even with that unavoidable distortion, the spending mix shifted somewhat this year, with slight declines in Japan and North America, and a significant increase in the "rest of world" category, from 2.9 percent in 2004 to 4.6 percent in 2005. This last category includes Australia, Brazil, Singapore, South Africa, South Korea, and Taiwan; the biggest growth came from South Korea and Taiwan. As shown in Exhibit 3, spending has grown most rapidly over the last five years in India, China, and the "rest of world" countries.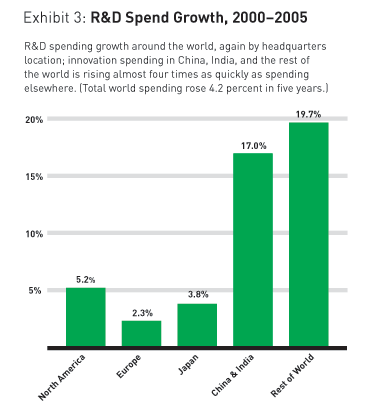 The overall trend is clear: R&D spending is becoming much more international. A survey conducted in May 2005 by Booz Allen and INSEAD indicated that only one-third of R&D sites are still located in companies' home countries, down from 55 percent in 1975.