We used the ratio of spending to sales (the percentage of a company's revenue spent on R&D) to meaningfully compare the amount that companies spent over time. We looked for cause and effect over all possible time horizons, performing approximately 10,000 analyses, matching our seven financial metrics against such factors as industry categories and corporate locations. Our analysis of the 2005 data confirmed the main finding from last year's study of 2004 data: There is simply no statistical relationship between the performance bang and the R&D buck.
The single measure for which a relationship between R&D expenditures and corporate performance can be statistically demonstrated is gross margin — gross profits as a percentage of sales. The 500 companies that have the highest rates of R&D spending as a percentage of sales are more likely than other companies in their industries to achieve superior gross margins. (See Exhibit 4.) This makes sense, because gross margin measures the direct profit from sales after product costs such as materials, labor, manufacturing, and direct shipping. It is thus the financial performance measure most directly influenced by a company's R&D operation. Researchers who study innovation estimate that 70 to 80 percent of the final unit cost of a product (the cost reflected in gross margin) is driven by R&D-based design decisions — for example, product specifications, the number and complexity of features in a device, the choice of standardized or customized parts, or the selection of manufacturing processes. This correlation of R&D spending and gross margin shows that in many companies, the R&D silo has succeeded in its narrow goal: creating a lower-cost offering that thus yields a wider margin, or a more differentiated offering for which a higher price can be charged.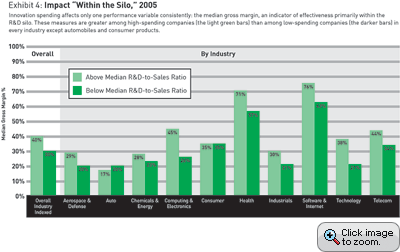 Unfortunately, for most companies — and for the Global Innovation 1000 overall — the financial value of fatter gross margins is not ultimately captured, presumably because it is eroded in the marketing, sales, operational, and administrative work required to bring the product to market. Success thus requires a cross-functional strategic approach to innovation: building a value chain that integrates R&D more effectively with marketing, sales, operations, and cost management.
Patents and Scale
R&D spending does relate statistically to the number of patents granted, across all the industries we studied. However, when we compared the results of our analysis of the Global Innovation 1000 companies with data from ipIQ, a technology analysis firm known for its comprehensive patent database, we found no statistical relationship between financial performance and either patent counts or patent quality. (To compile its patent quality ratings, ipIQ tracks such measures as the number of citations in the scientific and technical literature.) Evidently, as in the case of gross margin, more R&D spending can lead to more innovation activity, but it doesn't necessarily create more valuable innovations.
Public officials often fixate on the number of patents issued as a proxy for national innovativeness, but our finding that patents don't relate statistically to financial performance implies that quantity is a misleading measure. One reason is that very few patents are truly significant — just as only a handful of the hundreds of thousands of books published each year become bestsellers. Moreover, many important innovations don't involve new patents. (Television technology, for example, is still based on patents from the first half of the 20th century.) Value is created by effectively combining new or existing patents with the ability to recognize and fulfill customer needs.
There is also a relationship between company size and R&D investment: Companies above the median in sales tend to spend a smaller proportion of sales on R&D than do the smaller companies. (See Exhibit 5.) Moreover, the lower R&D-to-sales ratios of the large companies don't seem to hurt them. Their performance on such measures as sales growth, profitability, and market value growth is statistically indistinguishable from that of the smaller, relatively higher-spending firms.