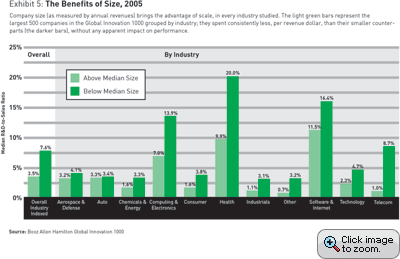 The overall impact of economies of scale helps explain one trend in the historical data for the Global Innovation 1000: Over the last five years, the median ratio of R&D spending to sales has declined steadily — from 4.09 percent in 2001 to 3.84 percent in 2005. (See Exhibit 6.) Although the percentage reduction seems small, it translates into a lot of money: The Global Innovation 1000 would have spent $27 billion more in 2005 if the ratio had held steady at its 2001 level — more than the total spent by the next 1,000 biggest R&D spenders. Much of this phenomenon can be explained by the increasing scale of companies around the world; the average sales of the top 1,000 R&D spenders increased from just under $8.1 billion to more than $10.5 billion in five years. But another reason is globalization: R&D is increasingly outsourced to facilities in lower-cost regions of the world. More than 75 percent of the new R&D centers that businesses plan to open during the next three years are to be located in China or India, according to a recent study by Booz Allen and INSEAD, the European graduate school of business. (See "Innovators without Borders," by Kevin Dehoff and Vikas Sehgal, s+b, Autumn 2006.)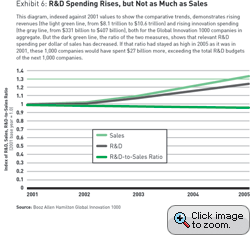 Having a scale advantage is not the same as achieving high-leverage innovation — that is, maintaining consistently high returns per R&D dollar. Indeed, our study suggests that many large companies are not taking advantage of scale efficiencies and are therefore spending more on R&D, proportionately, than other companies that gain comparable financial impact. By the same token, smaller companies need to find ways to capture more benefits of scale virtually — for example, through partnerships that allow them to share investment costs, or through the development and use of global and cross-company innovation networks. They could thus spend less on R&D as a percentage of sales without impairing their financial performance.
Benefits from scale may also accrue to those who pool innovative activity with their neighbors — by extension, enhancing the competitiveness of a nation or locale. The best course for public policymakers interested in encouraging this kind of innovation is to focus government efforts on basic research so that companies can concentrate on development and commercialization. The public sector also has a role to play in helping smaller companies improve their innovation processes. One model in the U.S. is the Manufacturing Extension Partnership operated by the National Institute of Standards and Technology (NIST), which enables small and medium-sized firms to tap the knowledge of business experts, including innovation specialists.
The Integrated Value Chain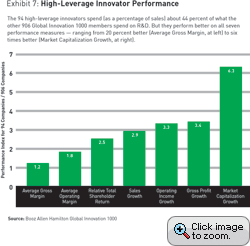 Despite the general lack of correlation between R&D and financial performance, we identified among the Global Innovation 1000 a select group: the 94 companies across industries that have found ways to consistently get better returns on their innovation investments. (See "High-Leverage Innovators," below, for the complete list.) Each of these companies consistently outperformed the median in its industry from 2000 through 2005 across a wide range of performance variables — sales growth, gross margin percentage, gross profit growth, operating margin percentage, operating income growth, total shareholder returns, and market capitalization growth — while spending less than its industry median on R&D as a percentage of sales. (See Exhibit 7.)
These 94 companies, all members of the Global Innovation 1000 (and thus among the top spenders on R&D in 2005), also met the screens for "high-leverage" innovation. They outperformed their peers in our analysis of seven key performance measures: sales growth, gross margin percentage, gross profit growth, operating margin percentage, operating income growth, total shareholder returns, and market capitalization growth over a five-year period. These companies also spent less on R&D as a percentage of sales than their industry medians over the same five-year period. Finally, companies whose reported financial statistics were cast in doubt (through sustained legal or government challenges) were excluded from the list.