To solve the riddle and achieve high-leverage innovation, senior managers need to understand the entire innovation value chain in their business and identify an integrated process. "The global economy places greater value on economies of speed, scope and skill rather than simply economies of scale," Sun Microsystems CEO Jonathan Schwartz wrote recently in the Financial Times. "This means innovation must be achieved by different departments and business units within the same organization working in parallel rather than in isolation as they often do in large corporations. It also means looking outside your organization to partners, suppliers and customers for new and innovative ideas."
For most of the Global Innovation 1000 companies — those not among the 94 high-leverage innovators — our study implies that methodically building capabilities along the innovation value chain could generate significant improvements in return on research and development spending. Companies can pick the elements to generate this competitive advantage on the basis of their industry, competition, and internal capabilities. And as our high-leverage innovators show by example, this in turn can yield superior and sustainable overall financial performance.

Top 20 R&D Spenders, 2005
Representing $116 billion, or 28 percent, of global innovation spending on R&D, the Top 20 companies are well-known multinationals headquartered in Europe, North America, and Japan. They have a median R&D-to-sales ratio of 7 percent, nearly 1.8 times that of the remaining 980 companies, reflecting the prevalence of health and computing firms as innovation leaders.
The Top 20 increased their median R&D spending at a rate of 5.8 percent in 2005 — about average for the Global Innovation 1000 as a whole. Over the past five years, however, the R&D spending of the Top 20 has grown faster than spending at other companies in their industries (6.7 percent vs. 4.3 percent). Furthermore, their R&D-to-sales ratios are significantly higher (6.8 percent versus 3.8 percent).
Only one company on this list, Toyota, qualifies as a high-leverage innovator by our criteria. As a whole, the Top 20 do not appear to be leveraging their scale advantage. They are spending on R&D at a higher rate than their competitors without capturing any corresponding performance gain.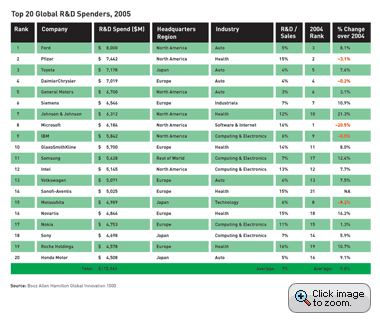 Innovation in the Nonprofit Sector:
R&D for Curing Childhood Cancer
Many nonprofits spend significant amounts on R&D, and although the metrics they use to measure performance are different from those of
corporations, the challenges their leaders face in maximizing the benefits of innovation investments are often similar.
To gain insight into the nature of innovation investment in the nonprofit sector, we visited with the senior management of St. Jude Children's Research Hospital in Memphis, Tenn. St. Jude (no relation to the company St. Jude Medical, listed on page 54) was founded in 1962 by the late entertainer Danny Thomas. It is widely recognized as an innovation leader in treating catastrophic pediatric diseases such as leukemia. The overall cure rate for childhood cancers is 70 percent today, up from less than 20 percent in the early 1960s, and St. Jude's current goal is to raise that rate to more than 90 percent. The hospital spent $154 million on R&D in 2005, which would rank it 390th on the Global Innovation 1000 study if it were a publicly traded corporation.
Innovation at St. Jude is intimately linked to delivery of service: The hospital provides treatment free of charge to thousands of children every year, and even reimburses their travel and living expenses. Unlike most research hospitals, which rely mainly on government funding, St. Jude receives more than 70 percent of its budget from charitable donations, raised by the American Lebanese Syrian Associated Charities (ALSAC), a Memphis-based group also cofounded by Mr. Thomas.
Strategic decisions on R&D are made by St. Jude's executive team and are based on an assessment of where the hospital can be most productive. This group recently decided, for example, to maintain its focus on childhood cancers, rather than allowing the hospital's researchers — some 200 scientists who work in 17 different departments, such as biochemistry, hematology, and immunology — to broaden their research into fields such as Third World infectious diseases. "I think we can do things that other places can't do because of our focused mission," says Scientific Director James Downing.
From Lab to Bedside
The idea of an innovation value chain is as relevant at St. Jude Children's Research Hospital as it is at any for-profit company. The hospital leaders themselves draw a sharp distinction between R&D ideation, project selection, and development. At the ideation phase, researchers are given wide latitude. "In this business, the worst thing you can do is try to direct basic science and discovery," says CEO William E. Evans, "because you really don't know where the advances are going to come from."
But determining whether the scientific discoveries made by the faculty are developed is a core managerial decision. If a St. Jude scientist makes a discovery not closely aligned with the hospital's mission — one, for instance, that might be useful in treating Parkinson's disease — Dr. Evans says, "we don't tell them not to work on it. But we do tell them that we're not going to be the ones who translate that discovery to the bedside."
St. Jude is also an innovator in breaking down silo mentalities. The hospital has been designed so that employees in different disciplines — researchers, clinicians, pharmacologists, nurses, and geneticists — all work interactively and in close proximity. Conscious effort is made, says Dr. Evans, to cultivate people comfortable with cross-disciplinary collaboration "at all stages, in terms of who gets recruited, who gets promoted, and who gets rewarded."
One result is that St. Jude is recognized (and copied) for its skill at translating medical research into effective treatment, a challenge at research institutions where scientists and clinicians tend not to communicate much with each other. Dr. Evans says, "Translational research — taking a discovery in the basic science of a disease and translating that into better treatment or a better diagnostic — has become a buzzword, but it's the way we've been thinking about childhood cancer for a long time."
Bets and Metrics
One of St. Jude's newly created departments — Chemical Biology and Therapeutics — shows how the hospital places bets on R&D projects with big potential. The department's mission is to test new substances and drugs that might be useful in treating childhood cancers. St. Jude built a new facility that stores 2 million chemicals at subzero temperatures, quickly accessible via robots for researchers to test. Although similar facilities have been built for pharmaceutical firms and a few other research institutions, no other organization had employed one in pediatric cancer research.
The bottom line for a nonprofit research hospital is different from that of a corporation. Instead of gross margin, net profit, and shareholder returns, St. Jude tracks such results as the decrease in mortality rates for specific diseases, the reduction in harmful side effects of treatments, and the number of times that studies by St. Jude researchers are cited in other research.
"The most important thing we do every day is to provide unsurpassed care for kids who come here," says Dr. Evans. "The most important thing we do for tomorrow is our research, which will change that treatment to something better. Innovation, in and of itself, is the ultimate product of this organization."
— B.J., K.D., R.B.