Dr. Cast, a physician who found himself working for HealthSouth after the ambulatory surgery center he founded was gobbled up by a company that in turn got gobbled up by HealthSouth, is no idle observer. Trained as an ear, nose, and throat surgeon, Dr. Cast plunged into the wild and woolly world of Yahoo's online message boards, using the screen name Charon_xxx, which I assume refers to the ferryman to Hades, although Dr. Cast never actually explains it. Draw your own conclusions. Dr. Cast's book makes for a scary but absorbing read on how the various systems put in place after the fall of Enron, including Sarbanes-Oxley, failed to protect ordinary investors.
Message boards played a key role in adding extra froth to the technology bubble. Because people can post anonymously, with little fear of retribution, online message boards are often full of outrageous lies and half-truths, not to mention lots of salty language written by people with a vested interest (either long or short) in the stock. Indeed, one of the more surprising things to me about Going South was that real people like Dr. Cast (as opposed to anonymous crooks and speculators) actually spent time on these digital free-for-alls. He explains that his aim was to help board participants understand HealthSouth and add to his own knowledge about the company, since several of his fellow posters were also HealthSouth employees. Indeed, Dr. Cast says that reading the HealthSouth board "became one of my daily routines."
His admiration for the message board's power to disseminate information is obvious to even the casual reader of Going South, who may quickly grow tired of the long and frequent message excerpts from a former HealthSouth food service manager named Peter Krum. Mr. Krum, who left HealthSouth in 1997, was sued by Mr. Scrushy for libel and in February 1999 posted a long apology on the Yahoo message board (which Dr. Cast dutifully includes word for word) as part of his settlement. Dr. Cast's claim that "message boards provide valuable access to investment information available nowhere else" also rings hollow. Although it's true that much of this information may be unavailable anywhere else, that's only because much of the stuff on message boards is pedantic, or outright false. Still, the idea that a group of people can meet online and work together to fact-check the fluff — from press releases to rosy earnings reports — is alluring.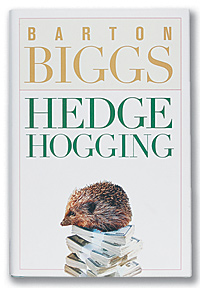 Hedging Bets
Less than a decade ago, hedge funds were an investment tool familiar to only a select group of very wealthy individuals. But over the past few years, in part due to a stricter regulatory environment for mutual funds, hedge funds have gone relatively mainstream. Although ordinary Joes still aren't likely to have enough money to participate in one, the aura of hedge fund investing — and the widespread belief that it is as freewheeling as the Wild West — have helped pump billions of dollars into these funds. Barton Biggs, who spent more than 30 years in the trenches at Morgan Stanley, eventually rising to director of research, left the firm with two other colleagues in 2002 to form his own hedge fund. He knows of what he writes in his very entertaining book Hedgehogging.
Mr. Biggs sheds light on this rarified world populated by big swinging "masters of the universe" types. It's a place where a mogul's 10-year-old daughter yearns to fly like the little people for a change. "What I really want is for you to take me to a real airport, check in, go through security, get searched, stand in line, and fly commercial to someplace," Mr. Biggs writes, recalling a conversation recounted to him by a fellow hedgehog. "Daddy, never having done that is really embarrassing." Well, at least we have one volunteer to fly commercial, though I'm guessing that by now, the kid has grown tired of that particular type of excitement.