These are promising developments, but not all the pieces that make up a true retail market have fallen into place — and those missing pieces represent real opportunity. Drawing on experience and the insights gained from a 2006 Booz Allen Hamilton study of 3,000 consumers and 600 physicians, we are starting to see which factors will enable the system to work well. (See Exhibit 1.) To make competition and innovation among payers and suppliers possible, the system will require the following: consumers who live healthy lives and plan for their future health-care needs; a fundamentally restructured supply side that provides consumers all the information they need to make wise choices and is quick to respond to changing consumer demands; and new kinds of intermediaries (perhaps the payers of today, perhaps not) to help align the supply and demand sides and help consumers navigate the complex system. All this requires an environment, both regulatory and technological, that encourages innovation and competition. There is tremendous potential for those players who empower consumers in this arrangement, with information, tools, and services that help them take control of their health care immediately and in the future. None of the three — consumers, payers, or suppliers — can drive the changes alone. As with any other market, the system won't function unless all the elements are moving in harmony.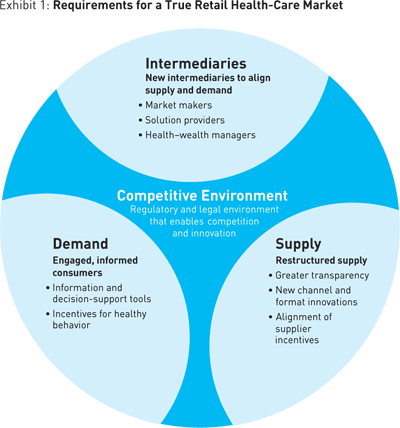 The goals of this retail revolution are to improve health and health care and to transform an annually evaporating asset — traditional health insurance — into a lifelong benefit with real wealth-building potential for consumers over and above any near-term risk management features. New approaches and mechanisms for payment have already emerged, but enormous gaps still exist between the supply and demand sides. Those gaps are where the opportunity lies for players who can bring to market new products and services that align the two sides. The consumer-centric offerings already appearing and those that have yet to emerge are more than cost-cutting tools or cynical antidotes to forced-choice HMOs. They're probably the last chance for a largely private health-care system in the country.
Consumer-Centrism
Consumerism is not a new phenomenon in the $2 trillion U.S. health-care sector. We've seen elements of it, such as direct-to-consumer drug advertising and independent health information sources like WebMD, emerging for more than 20 years. In the last couple of years, however, innovations like CDHPs, tiered drug benefits, and restricted insurance coverage have begun to take hold and are accelerating the retail shift. More than 13 million people, or 7 percent of the population covered by private insurance, are now insured by CDHPs, and the number has been doubling annually since 2004. At that rate, CDHPs in the U.S. will reach the tipping point — generally defined as 15 percent penetration — within the next year or two; once that happens, we'll see the entire market, including doctors, hospitals, drug companies, or device makers, respond with a more consumer-centric approach, or be left behind.
Informed Decision Making. Much of what is needed on the demand side is in place today or likely to emerge in the near term. CDHP enrollees offer an early glimpse of subtle changes in consumer attitudes in a retail market. Our study shows that CDHP enrollees are more likely to be aware of price and quality differences in products and services and more likely to have seen information and shop around; they're more likely to ask for prices up front, more likely to negotiate prices, and more willing to trade convenience for lower prices. They're also more likely to segment health offerings: For those products or services viewed as commodities, they will pick lower-cost alternatives, choosing, for example, generics over branded prescription drugs. They are more likely to plan ahead when making health-care decisions and to invest dollars now to prevent problems later.