But there's much more to be done to get to a true retail marketplace. Payers and suppliers need a more finely tuned segmentation of customers to reflect their varying degrees of sophistication, needs, values, and financial wherewithal. A retail market requires more comprehensive, trustworthy information and education for consumers. And it needs new kinds of products and services that align with consumer needs to help them become sophisticated and engaged shoppers.
Consumer segmentation in the health-care industry is rudimentary at best. For the most part, payers and suppliers treat consumers as a monolith, with basically the same needs, values, and levels of sophistication. But consumers in any retail market are not homogeneous, and in health care, distinct segments are emerging with different value drivers and varying comfort levels in navigating an increasingly complex health-care market. The industry's current one-size-fits-all approach to product design, consumer education, and service simply does not work. Clearly, structural change is in order.
Here we can look to innovations in other retail markets for inspiration. (See Exhibit 2.) Leaders in a number of industries leverage sophisticated segmentation capabilities to understand unmet needs across a customer's life cycle, and then use a strong brand, along with product and service innovations, to drive new demand. Marriott has 10 hotel brands, each with its own business model that appeals to a different segment of the market. Perhaps the most sophisticated consumer segmentation can be found in the financial-services industry, especially in retirement programs. One lesson from the transition to defined-contribution retirement plans is that different customers want help to do different things. Some place greater value on their time than on lowest cost, and therefore hire financial planners to help them prepare for retirement. A self-service segment of the market wants to manage things themselves. And some consumers can't or won't manage a lot of complexity, so they are best served by automatic enrollment in 401(k) programs, annuities, and life-cycle funds.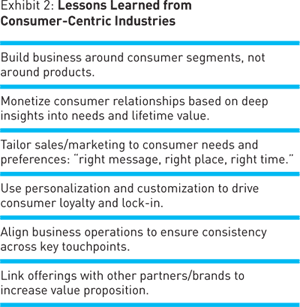 Another insight from retail segmentation is that different consumers need different types of information and education. There are plenty of decision-support resources available and emerging, but they're not necessarily in formats consumers can easily use, in a language they understand, or from sources they trust. Our study and our experience suggest that consumers have the least confidence in many traditional sources of information, namely health plans, employers, pharmaceutical companies, and the government. They want better communication with their physicians and more user-friendly independent sources, such as Consumer Reports. Those are a start, but the most important step will be standardized metrics and the transparency they offer on cost, quality, and service. The U.S. government is trying to drive this kind of transparency, and has made some progress, particularly with quality measures, but efforts are nascent. We'll see real progress when consumers and employers join the government and leading private-sector payers in demanding this information.
Some interesting pilots show the direction in which the market for information is headed. Health plans are beginning to offer provider cost and quality data along with decision-support tools. In 2005, Aetna began testing tools that allow consumers to compare physicians on actual cost, so that they can gauge their out-of-pocket expenses. WellPoint has embarked on a pilot program at the suggestion of General Motors to provide complete comparative cost data for hospitals on "episodes of care." Patients on the GM health plan who are having their gallbladder removed, for instance, can get a cost estimate for every hospital-controlled element of that treatment, including tests, room and board, drugs, and other ancillary services. A growing class of niche players such as WebMD (with its recent purchase of Subimo) are evaluating hospitals and physicians using emerging quality measures, such as error rates and adherence to evidence-based medicine.