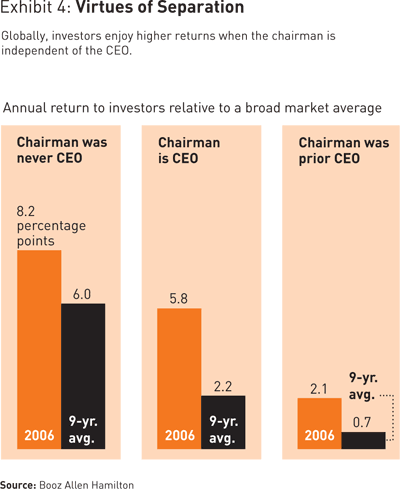 In Europe, separation of the roles had already occurred in 78 percent of companies by 1995; thus, the increase in role separation after that year was small. The dominant dynamic in Europe was the decline from 61 percent of chairmen who had previously served as CEO in 1995 to only 23 percent in 2006, with a concomitant rise in the proportion of chairmen who had never been CEO. In Germany, the system of two-tier boards with a managing board that "should" be controlled by a supervisory board is under particular pressure to reform. In Japan, however, there was little change, with CEOs continuing to become chairman of the board.
Governance relationships have important implications for company performance. Non-chairman CEOs enjoyed a tenure of only 5.8 years, compared with 10.3 years when the roles were combined. In North America and Europe, 58 percent of the CEOs who were also chairman reached a planned retirement, compared with only 35 percent of CEOs who weren't chairman. Investors benefit when the roles are split.
Investors also benefit when the chairman isn't the previous CEO. Splitting the roles of CEO and chairman while the former CEO stays on as chairman (an arrangement we call the "apprentice CEO") is a bad idea for three reasons: First, knowing that the former CEO will remain involved as chairman sometimes leads the board to embrace a candidate who was a great number two, but who's unlikely to become an effective CEO; second, most chairmen who were CEO protect their protégés, reducing the likelihood that the new CEO will be fired for poor performance; and third, some chairmen who weren't really ready to give up their executive responsibilities go to the opposite extreme, firing their successor at the first sign of trouble and reassuming the chief executive position. CEOs who served while the previous CEO was chairman performed significantly worse for investors both during 2006 and across the nine years we studied. All the underperforming North American CEOs with long tenure who departed in 2006 either held both titles or served under a chairman who was a former CEO.
In addition to the two major board trends, we can identify three expedients that boards commonly adopted as they coped with the rapid increase in CEO turnover that began in the 1990s — expedients that are no longer necessary because boards have adapted to the new normal. The first expedient was the willingness of boards to look outside the company for new chief executives. Globally, the proportion of outsiders departing as CEO grew from 14 percent in 1995 to 30 percent in 2003, and then declined to 18 percent in 2006. Since the average tenure of outsiders is 5.8 years, the hiring of outsiders as CEOs peaked in 1997, when the outsiders who departed in 2003 were hired. In retrospect, it's clear that the rise in CEO turnover caught many boards without adequate succession plans. We hypothesize that by strengthening their focus on succession, boards have nurtured leadership bench strength, enabling them to return to the internal candidates they traditionally prefer.
The second expedient was the appointment of interim CEOs, a choice boards fell back on when a CEO left abruptly without a viable successor in place. Interim CEOs lead a company for about six months, on average, while a CEO search is conducted. The proportion of interim CEOs increased globally from 3 percent in 1995 to 6 percent in 2005 and then declined in 2006. Interims are most common in North America and Europe, where their numbers reached a peak of 19 percent of CEOs departing via planned succession in 2005. (In Japan, with its strong tradition of insider successions and its relatively low proportion of performance-related departures, interim CEOs are rare.) As in the case with outsiders, boards turned to interim CEOs because of the rise of unexpected CEO departures, and we believe the recent decrease reflects improving CEO succession processes: Most boards today have at least one internal candidate who is ready to take the helm, so no interim CEO is required.