The author's recommendations are amply backed up by both theoretical and empirical support from telling re-analyses of classic corporate duels, such as the struggle in the VCR market between Sony (Betamax) and Matsushita (VHS). Betamax was a failure despite Sony's inspiring vision, customer focus, superior technology, careful analysis, and flawless execution: The market developments that laid it low — unexpected network effects of the movie rental business, abetted by the torrid increase in the production and distribution of adult titles — were unforeseeable, and Sony failed because it had committed too early, before these events unfolded. Trying to make sense of the concept of corporate strategy over the past 50 years has been a bit like looking through a child's kaleidoscope — every turn has revealed a glimpse of new colors and relationships. With this book, Raynor has made considerable progress toward presenting us with a more comprehensive framework that, while preserving parts of the old, has presented corporate strategists with an exciting vista of the new.
---
Firing Back: How Great Leaders Rebound after Career Disasters
By Jeffrey Sonnenfeld and
Andrew Ward
Harvard Business School Press, 2007
306 pages
---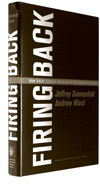 The rise of celebrity CEOs has been accompanied by the rise of celebrity academics and consultants who chronicle their triumphs and now, in Firing Back: How Great Leaders Rebound after Career Disasters, examine their recoveries from failure.
Jeffrey Sonnenfeld is the Lester Crown Professor of Management Practice at Yale University's School of Management. His coauthor, Andrew Ward, is a member of the management faculty at the Terry College of Business at the University of Georgia. Sonnenfeld is also the founder and president of the Yale Chief Executive Leadership Institute, where his facilitation style in the institute's popular blue-ribbon executive seminars has been compared to those of TV talk show hosts Phil Donahue and Oprah Winfrey. His close relationship with and easy access to many well-known senior executives has been the envy of many fellow academics.
The result of this cooperation is an ambitious but uneven book that does not fully deliver on its promises. At the outset, the authors undertake to examine why some prominent leaders recover from disasters while others do not. Although several leaders in the latter group are identified, their careers subsequent to derailment and the reasons for their failure to recover (if, indeed, they wanted to recover) are never considered. Thus, although the academic frameworks of the barriers to recovery from failure — societal attitudes, corporate cultures, psychological stresses, and the specific causes for departure — are discussed in the first half of the book, it is difficult to assess their relative importance. Although it is undoubtedly true that there is more to be learned from failure than from success, the authors never tell the reader what the survivors extracted from their experience that those who "perished" did not.
In addition, despite a nod to academic concerns about the American emphasis on rugged individualism and heroic leaders, the authors unabashedly place their subjects in high-flown, heroic contexts. "Great leaders," they write, "are usually driven by a quest for immortality — a deep-seated psychological need to validate their existence...by seeking to make a contribution that will outlast their mortal body and not be readily eroded by the sands of time." The five "fundamental components of resilience" they identify are fight — not flight, recruiting others into the battle, rebuilding heroic stature, proving one's mettle, and rediscovering heroic mission. Whether these are strategies that can be employed by anyone or competencies present only in those who survived career setbacks is unclear. Perhaps the best a reader can take away from this book is that there is no such thing as seamless, unalloyed success: Things do fall apart, and every career in management is a roller-coaster ride, but the differences between those who rebound from disasters and those who do not remain to be discovered.