Zara accomplishes all this by tightly linking de­mand signals at the stores with a highly responsive supply chain. It relies on a very limited number of closely managed manufacturing suppliers, plus its own manufacturing facilities and a chain of closely managed retail stores. Shelf-centered collaboration seeks to achieve the same results through a much broader (albeit still carefully selected) integrated network of manufacturers and retailers. This kind of "collaborative virtual integration" yields the scale, scope, and responsiveness of a vertically integrated operation without its limitations, costs, and capital requirements.
Prerequisites and Prototypes
To be sure, realizing these benefits across the boundaries of many companies in a collaborative network is not simple. It requires a shift of mind-set and many changes in day-to-day practices. Those changes take place simultaneously across three levels of shared activity.
• Collaborative Strategy. Shelf-centered collaboration begins at the corporate leadership level. Retailers, manufacturers, and other partners set common strategic goals, define priorities over a three- to five-year horizon, establish communication channels across the boundaries among them, and manage the value chain through cross-enterprise and cross-functional teams, using shared measures of success.
The overarching goal is for each function and each business in the value chain to think end-to-end about the entire network of participants, from first supplier to end consumer. Instead of seeing their job as simply creating demand or supplying the shelf, they can now contribute to making the entire value chain more effective and responsive. This requires building enough trust among strategic partners (within and among organizations) to overcome any long-standing biases against sharing information, analysis, and metrics. And it requires a collaborative understanding of the costs, speed, waste, and economic trade-offs in the flow of goods, information, and cash.

• Tailored Business Streams. Shelf-centered collaboration helps companies overcome the ingrained (but increasingly ineffective and unprofitable) habits of one-size-fits-all mass production. Built into the SCC value chain design are a variety of business streams, differentiated according to price (premium versus base products), consumer demand (aligned to various demographics and networks), demand variability (stable versus promotion-driven), and other factors. Some of these streams turn over rapidly; others change slowly; and each has supply and distribution policies and innovation, sales, and marketing models designed accordingly. Manu­facturers and retailers might send large assortment packs to supermarkets on weekends, specific varieties to midsized stores on weekdays, and single-serving packs to convenience stores. They might replenish the same product in some stores through customized promotion units, direct from the manufacturing plant; in other stores through the retailer's distribution network; and in small, remote locations through commercial parcel de­livery services. Manufacturers and retailers would participate broadly across channels and categories, but they would focus their best efforts on differentiating for profitable growth with key strategic partners. (See Exhibit 3.)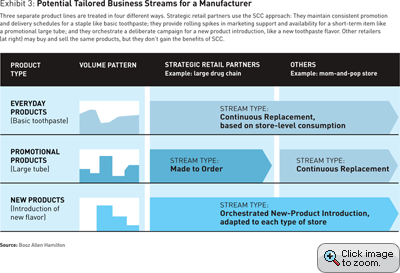 • Integrated Capabilities. Innovation and alignment in three domains make it possible to achieve real integration across value-chain participants. The first domain focuses on people: reframing incentives and organizational structures to integrate teams along the value chain. Team performance and scorecards are coordi­nated across company boundaries, tracking an agreed-upon set of key performance metrics — for example, sales growth, inventory turns, and shelf out-of-stocks — that provide retailers and manufacturers with common incentives for cooperation. Ultimately, these teams would be accountable for joint manufacturer–retailer P&L results.
The second domain enables the improvement of processes: applying lean production techniques not just among suppliers, but throughout the production–distribution system, following the example of a few well-known retail chains such as Tesco. Retail stores would be clustered and organized in new ways, in tune with consumer demographics and preferences as well as with opportunities to streamline the supply chain.