But those tactics are increasingly recognized as counterproductive; they simply haven't been profitable. More and more, leading manufacturers and retailers understand that engaging their value chain partners can help them manage the complexity of today's product categories and retail channels — not by limiting diversification, but by matching product and retail opportunities more effectively. For example, a company might focus on new product innovation with some partners, for whom assortment is essential. With other partners, who see the lowest possible net landed cost as the primary measure of success (the net landed cost includes the product cost plus transportation and handling), the same company would pay more attention to supply chain efficiency.
Two big trends are making it easier than ever before to collaborate. The first, as we've noted, is the recent maturity of effective new technologies and processes. The second, equally important, is the growing number of manufacturing and retailing companies who are interested in becoming global or regional leaders, and who now recognize the value of having true partners at the point of sale.
Some companies will continue to ignore the opportunity. They'll say, "We already have strategic trading partners" or "We already analyze consumption data," while they continue to manage traditional supply chain relationships and to allocate resources based on historical averages of weekly regional performance. But they will fall behind those competitors who build more collaborative relationships.
The most successful early adopters will start with a few strategic value chain partners and gradually open their "preferred partner" opportunities to more and more manufacturers and retailers. In the end, some companies will find their dance cards full of exciting partnerships, while others are left standing on the periphery. To a large extent, what will make one player more desirable than a competitor will be its systems, capabilities, and performance. How open and committed is your company to strategic collaboration and partnership — to working across internal and external boundaries to win the battle of the shelf? The winners of this capability contest will get to play a major role in rewriting the rules of consumer goods manufacturing and retailing.
We generally advise the following first steps for companies who wish to pursue this transformation.
Develop Your Strategic Road Map. Identify priorities and expected benefits. Outline required changes to your current operating model. Seek out some initial partners among the retailers or manufacturers that you trust most and with which you have the most to gain.

Drive Collaborative Change. Conduct in-depth workshops with your selected strategic partners, designed to build understanding and to demonstrate and pursue opportunities.

Design and Build Integrated Capabilities. Plan and implement the process, analytic, organizational, and IT innovations needed to operate shelf-centered value chains. (See Exhibit 4.)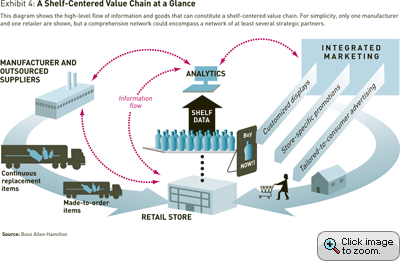 Those who start early will be less likely to get left behind as shelf-centered collaboration systems become more sophisticated. The ability to sift and combine numerous signals of consumer demand — from next-day point-of-sale data to shopper card transaction data to store and warehouse orders to shipment information — will improve gradually with experience. So will the ability to act on those signals in a more automated and granular fashion. Some applications of SCC may incorporate online purchases, or use Web-based media from home to connect people with particular face-to-face shelf-based promotions. Gradually, the entire system will become more attuned to its diversified markets. Like mass online video games that automatically adjust their story lines in response to the moves of their players, the entire system of analytically abetted human decision makers will become smarter and smarter about the real needs and desires of its manifold consumers. Those needs and desires, in turn, will be more expertly and individually reflected in the retail environment. Every store may one day be rife with the real-world equivalent of Amazon.com's pop-up windows, programmed to associate its offers with the consumer's previous purchases.