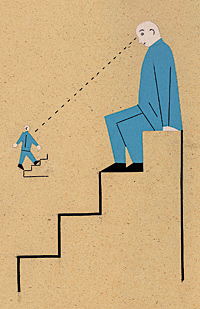 Kim Lavine
Mommy Millionaire: How I Turned My Kitchen Table Idea into a Million Dollars, and How You Can, Too!
(St. Martin's Press, 2007)
Jessica Livingston
Founders at Work: Stories of Startups' Early Days
(Apress, 2007)
David Silverman
Typo: The Last American Type­setter, or How I Made and Lost 4 Million Dollars
(Soft Skull Press, 2007)
Doug Tatum
No Man's Land: What to Do When Your Company Is Too Big to Be Small but Too Small to Be Big
(Portfolio, 2007)
---
No ventures better reveal the dynamic nature of economic activity or the human drama of business than startups. This is true whether the startup is a new stand-alone venture, a subsidiary spin-off from a large corporation, or the creation of a lone entrepreneur starting from scratch. Startups flourish where visionary entrepreneurs see ways to satisfy needs with new products, ser­vices, and technologies; they act as beacons of opportunity that signal how young niches can grow into major industries. Startups can also produce dramatic stories of personal success and failure that teach, inspire, and chasten those who are brave enough to lead a startup themselves.
Whereas business titles aimed at established managers in established companies trade in big ideas, such as disruptive innovation, it is the startup books that focus on the basic management skills necessary to launch and grow a successful new enterprise. Above all, the best entrepreneurial titles about startups deal with learning. They show how individuals must develop both inside and out, acquiring self-awareness and managerial mastery while simultaneously learning what exactly their market values.
New ventures generally spring from the passion of an individual or a group of individuals. And even if the leader has some business chops, participants in those ventures are often novices in the market they want to serve or in using the new model they aim to pioneer. As a result, every startup offers a distinctly different saga of how visionaries become managers and how viable and self-sustaining enterprises emerge from promising opportunities. Today startups can launch more quickly, with less early capital, and grow faster than ever before. And as a result, the greatest stumbling block may be the experience and talent of the founders.
Whether you are a fledgling entrepreneur, a division manager, a project leader, or the head of a multina­tional, the lesson from all these books is this: Become skilled, wise, and professional as early as possible. The prospects for all startups today, whether de novo or repotted from corporate soil, are increasingly calibrated to the founders' personal strengths and weaknesses.
Indeed, all managers reckoning with the entrepreneurial journey must learn to exploit their strengths, compensate for their weaknesses, and above all, see how their personal traits bear upon the growth of their business. They must also be willing to swap out, trade up, or rapidly adjust their capabilities. The shelf life of any great idea or market niche continues to shrink, making it ever more important for entrepreneurs to use every venture as an experiment in their own managerial growth. To paraphrase Gandhi, "You must be the startup you want to see in the world."
Mommy Millionaire: How I Turned My Kitchen Table Idea into a Million Dollars and How You Can, Too! written by mom-turned-CEO Kim Lavine, breathes new life into what has become an entrepreneurial archetype — that of an inspired person inventing a colorful new artifact (in this case, a comforting neck pillow filled with corn that can be warmed), and then painfully acquiring the experience to build a successful venture around this product.
Lavine's honest account tallies the rookie stumbles she made and the fouls she had to overcome, but her entrepreneurial injuries are mere cuts and scrapes compared with the fateful blows suffered by David Silverman. In his poignant book, Typo: The Last American Typesetter, or How I Made and Lost 4 Million Dollars, he recounts his naive and unsuccessful effort to stem the migration of the domestic typesetting industry to lands of cheap labor.