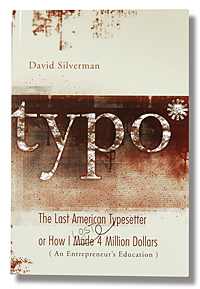 Slow Learner
A story of hard-earned success can teach much, but an honest and noble tale of failure is often a far more potent fable. David Silverman's Typo is an honest, elegiac tale of an unsuccessful venture to revive the American typesetting industry. Silverman's painfully personal story of his company's demise highlights many of the often insurmountable challenges that business leaders must face at a personal, managerial, and strategic level. Un­fortunately for him, he must learn too much on the job. The nuances of managing people, coupled with the natural conflict between capitalism and humanism, and, in his case, the business consequences of a young owner's naivete, prove to be an overwhelming curriculum. "Trying to cram a literal decade of change into three months" is too great a goal.
Like many individuals whose technical expertise is essential to the success of the venture and yet is en­tirely insufficient for tackling the broader management challenges, Silverman slowly discovers that implementing better information technology and more efficient work processes is as effective as prescribing an aspirin for a patient with a brain tumor. He and his mentor purchase Clarinda, an Iowa-based typesetting company that is threatened by the exodus of this work to low-wage countries. They hope to use new technology and training, along with economies of scale from rolling up competitors, to turn the company around.
Yet their ambitions are thwarted by a multitude of obstacles. Clients demand unreasonable cost reductions, while they are simultaneously sending work overseas. Within the company, a cast of stubborn, small-minded workers continually thwart Silverman's attempts to change antiquated, costly, and, in some cases, completely unnecessary work practices. While Silverman fails to make changes in Iowa, shifting global economic conditions raise the stakes. Competitors in India and the Philippines are willing to do the work at one-thirtieth of the labor costs. And publishers en­courage the trend by sending these overseas companies the work.
Ultimately, Silverman learns too slowly. Financial literacy, managerial know-how, dispassionate human resources skills, and industry big-picture wisdom do come to him eventually. He introduces clever plans to work more effectively, yet fails to adopt a rational and fine-tuned picture of total company costs until too late in the game. The stakes are high. Not only does he lose the business, but he also loses his partner, and many of his youthful illusions to boot.
In the end, Silverman must reckon with several painful truths about his personal ability to help others, as well as the greater goal of designing companies with a soul. The son of an IBM man, Silverman brought a benevolent view of capitalism to his venture, one informed by growing up in a home where his father had benefits, job security, and a retirement plan.
"Capitalism is about making money," writes Silverman wistfully. "Benevolence is a feature of companies that have enough excess profits to afford it. IBM survives today because the old IBM employee recreation center with the Olympic pool and discount hamburgers that my father valued so much has long been abandoned and become overgrown with weeds."
Because David Silverman does not flinch from sharing the most painful and revealing lessons of his journey, I name Typo my top pick among this year's titles.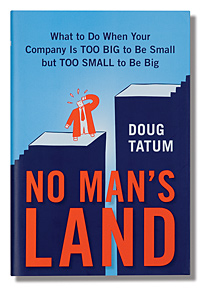 Wisdom Doesn't Scale
Doug Tatum's No Man's Land adds a nice bit of perspective to these two sagas. Like several other vital books that chart how companies grow, such as Ichak Adizes's Managing Corporate Lifecycles: Founding Principles in the Management of the Arts (Prentice Hall, 1999) and Eric G. Flamholtz's Growing Pains: How to Make the Transition from an Entrepreneurship to a Professionally Managed Firm (Jossey-Bass, 2000), Tatum's helps entrepreneurs assess how well suited they are to take their venture to the next level.