"Midnight," the fellow replies.
"Is that so?... I must go home then. I was married today."
Edison, the fabulous inventor, was a terrible husband, a worse father, and an insensitive employer who used loyal people and then fired them on a whim. He was a micromanager who made decisions not only in areas where he had little expertise, but also in situations where he was downright incompetent. He pronounced the radio "a fad" and forbade his managers from entering the business. In its day, Edison's company was one of the major producers of musical recordings, and its nearly deaf founder (Edison literally had to bite the wood of a piano or phonograph in order to hear it) insisted on being the person to choose which artists to record. He had disdain for all forms of popular music — jazz was "for nuts" — and he wasn't all that happy about most classical performers, either, calling pianist/composer Sergei Rachmaninoff "a pounder."
He cared not a whit about customer preferences. It is little wonder, then, that when he died in 1931, he had so mismanaged his business empire that he left an estate valued at only US$1.5 million. By comparison, his friend and fellow titan, Henry Ford, left roughly $180 million. Ford was, in fact, Edison's only friend, reflecting the wizard's general mistrust of others (he suspected they were using him for their own purposes). As he grew older, Edison became insufferably self-absorbed and opinionated and, in the end, was beloved by all but those who knew him. And, unlike Ford, Edison left no philanthropic legacy and never made any significant civic contributions.
That said, Edison was seen by the public of his day as a great inventor, and his name on a product was viewed as a guarantee of quality and technical progress. He also was a hero and role model to many aspiring inventors and businesspeople. Stross gives the man his due: He was a genius at self-promotion. "Edison had promoted his own image and the notion that it was his hands alone that had performed miracles." Even in his lifetime, knowledgeable people began to realize that he was no Steinmetz or Tesla. The book's subtext, of course, is that Edison stands as the first in that long line of celebrity CEOs that stretches more than 100 years and 3,000 miles from Menlo Park, N.J., to Menlo Park, Calif. Read it and weep.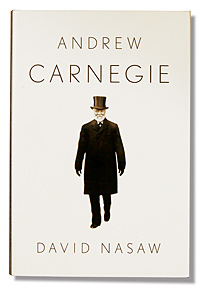 The Inveterate Optimist
Standing a bit shy of the five-foot mark, Andrew Carnegie nonetheless stood head and shoulders above the much taller J.D. Rockefeller, J.P. Morgan, and their Gilded Age contemporaries known collectively as Robber Barons. In fact, Carnegie was the giant of his era (1835–1919), a man of remarkable breadth and substance who was as much a player in the fields of national and international politics, philanthropy, and literature as he was in the world of big business. As David Nasaw documents in his engaging, magnificently researched, and beautifully written biography, Andrew Carnegie, the little Scot was a man in full — and although not a particularly good or brilliant man, he was the first modern American corporate capitalist, an undeniably important figure in his own time and, by reflection, in ours. I have had to restrain my enthusiasm in writing this review: Andrew Carnegie is not only the best biography of the year, it may be the best business book I have ever read.
Carnegie was the largely self-educated son of a ne'er-do-well Scottish weaver who immigrated with his family to the Pittsburgh area at age 12. Given the grim circumstances of his early life and the dour demeanor of his Scots relatives, the son displayed an amazingly sunny disposition. As a boy, and throughout his life of 84 years, Carnegie was seldom seen without a smile on his face, and was always full of cheery optimism even under the most adverse of conditions. Curiously, like Edison (who was born a dozen years later), Carnegie started his career as an underage telegraph operator. But whereas Edison got hooked on the technology, Carnegie was seduced by the money. By age 19, he was wildly enthusiastic about earning money from capital and set out to earn it by selling bonds in Europe to raise money for American companies (and investing in railroads, bridges, and oil, among other necessities of the industrial age). He appreciated that it was far better to let money work for him than to labor himself. Indeed, he found being a capitalist better than doing work of any kind. Unlike Edison, Carnegie never saw the inherent virtue of hard work. Instead, he believed that work was an activity to be minimized so he could have time to enjoy the good life of reading, writing, horseback riding, traveling, concertgoing, taking long walks in nature, and having conversations with thoughtful friends. But the simple life was not enough. Carnegie "reveled in excess," writes Nasaw, eventually owning a 40,000-acre palatial estate in Scotland, replete with a staff that included a full-time gamekeeper, forester, yacht captain, golf links superintendent, organist, and bagpiper (to wake his numerous houseguests at dawn and to call them to their meals).