At the time of privatization, CN was a transcontinental railroad with track from Halifax to Vancouver, but it had only a limited presence in the United States, courtesy of its Grand Trunk subsidiary, which served the Detroit–Chicago corridor. The company's turnaround accelerated when it made several key acquisitions. The first was Illinois Central (IC) in 1998, which allowed CN to reach New Orleans and the Gulf of Mexico. Then in 2001, it bought Wisconsin Central, thus penetrating farther into the upper Midwest and plains states.
One important side effect of the IC acquisition was that IC's president, E. Hunter Harrison, became chief operating officer of CN. Widely perceived as a topnotch railroad operator, Harrison became chief executive officer of CN in January 2003. Under his leadership, the company made one more small but critical acquisition, in May 2004 — Great Lakes Transportation. At almost US$38 million per mile, the $380 million purchase of the company's 10.5-mile (17-kilometer) section of railroad near Duluth must rank as one of the costliest purchases in rail history. Yet the 10.5 miles in question completed the route from New Orleans to Chicago and onward to CN's transcontinental network north of the border, justifying its price tag.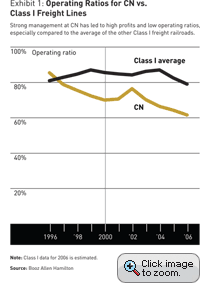 This series of acquisitions allowed CN to become one of North America's most profitable railroad operators, with the lowest operating ratios (expenses as a percentage of revenues) of all freight carriers — in the mid- to low 70s, compared to ratios in the 80s for other carriers. CN has become adept at exploiting its market at a time when freight rail is facing capacity constraints, and it has been able to create higher value than the other major (Class I) freight railroads. (See Exhibit 1.)
Certainly, some favorable conditions in the industry have contributed to CN's success. North American freight rail has little bureaucracy and few track incompatibility issues to hinder travel over long distances. Ten-year railroad trends, published by the Association of American Railroads, show freight revenue soaring from less than US$35 billion in 1996 to $47.9 billion in 2005. Much of this growth can be attributed to the rise of imports from Asia, particularly China, which arrive at West Coast ports and need to be transported across the country. In addition, many power stations are switching from natural gas, which is delivered by pipeline, to coal, which travels by rail.
Another factor driving freight growth has been restraints imposed on the trucking industry. The short supply of truck drivers, regulations limiting the time they can spend on duty, and worsening highway congestion have made road haulage less competitive. But unlike trucking, rail cannot quickly expand, because the railroads must make massive capital investments simply to maintain and upgrade existing track, leaving little money for building new routes. Freight railroad operators are among the most extensive capital investors, with 15 to 20 percent of revenues on average reinvested in the track (which, unlike road or air routes, is not federally funded) and rolling stock (the locomotives and cars).
Capacity constraints lead to increased prices, but although there are still six Class I freight railroad operators in North America, competition has kept prices down. Instead, innovative rail operators have looked for new ways to squeeze more money out of their existing networks.
One key to doing that has been to find a way to fill the cars that leave the West Coast loaded with Asian goods for the Midwest and East Coast and return virtually empty. CN has worked with other transportation companies, agricultural operations, and the government to create the infrastructure necessary for a low-cost, efficient supply chain that reaches all the way to Asia, encouraging the export of agricultural products to China for processing. Similarly, the company worked with ethanol producers to find safe ways of transporting the combustible alcohol over rail as the export market grew. CN also benefited from the fact that transport of metallic ores almost doubled in 2005, mainly feeding China's manufacturing boom.