This market responsiveness, which CN shares to some extent with the BNSF Railway, Union Pacific, Norfolk Southern, and others, is typical of a visionary rail company, as is CN's disposal of unprofitable lines of business. Take, for example, dropping off and taking on single boxcars loaded with industrial products at small towns en route. This used to be an established part of freight rail company service. But CN has largely dropped that part of the business, focusing instead on becoming a "scheduled freight railroad" with on-time performances to not only rival, but beat, trucking over medium to longer distances. The impact is enormous, with a reduction in rolling stock possible thanks to reduced complexity in point-to-point services and higher train velocity. Similarly, CN has been a market leader in the introduction of radio-controlled locomotive switching, which reduces employee costs.
Shippers, too, have changed their business practices to reap the benefits of new, more efficient rail services. Grain producers, for example, have invested in larger silos; because the producers can load more grain at a time, the railroads can use multiple cars and longer trains for each shipment, rather than running smaller trains several times. This gives CN economies of scale that allow it to offer lower rates to shippers, as well as providing better service.
Railroads still confront issues involving a unionized workforce, outmoded work rules, and various legacy agreements and restrictions from an earlier era. But de­spite a small dip in rail freight tonnage figures in early 2007 and some highly publicized train derailments in ecologically sensitive areas, the North American freight rail industry's future looks bright.
Amtrak's Unexpected Triumph
Probably no passenger railroad turnaround story is as significant as that of Amtrak; it suggests that dedicated management can overcome a host of obstacles. Since it was formed in 1971 as a U.S. government–owned amalgamation of the largely declining passenger lines of private railroads throughout the United States, Amtrak has fought a losing battle for financial independence. Even in its most successful years, since 2002, Amtrak has barely survived on a federal government handout of $1 billion per year on top of fare receipts. Its funding allocations are driven largely by political considerations, rather than by Amtrak's operating and capital needs. As a result, investments in rolling stock and infrastructure have repeatedly been postponed.
Nowhere is this felt more acutely than in the Northeast Corridor, from Boston to Washington, D.C., the most densely populated area of the United States. There, freight and commuter railway companies all use Amtrak-owned track while competing with Amtrak for business. The Northeast is the oldest section of railroad in the U.S. and has been in disrepair (some would say "patched together") for decades, due to underinvestment by a series of administrations in Washington. This has led to power outages, bridge closures, and disruptive engineering work. The rolling stock is also old, and Amtrak trains in the Northeast Corridor are often late and sometimes canceled owing to mechanical problems. Commuters in the country's Northeast are among the most frequent train riders, but their experiences have too often landed them in the dissatisfied or disgruntled camp. As a result, Amtrak has been plagued by negative public perceptions throughout most of its history.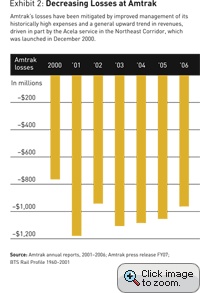 Yet despite these adverse circumstances, Amtrak was able to launch the Acela Express, a higher-speed rail service and an immediate hit with businesspeople and politicians shuttling among the eastern seaboard's major cities. (See Exhibit 2.) The company had recognized an underserved rail passenger niche that needed a reliable, speedy, and relatively comfortable alternative to air travel. To market a new rail service to them, Amtrak studied Eurostar, made up of private companies that had broken free of their largely state-owned parents in 1994 to establish a separate and unified marketing organization known for innovative advertising, competitive leisure promotions, and a generous frequent traveler program.