Regional Disparities
Europe led the world in CEO turnover in 2007, with an overall rate of 17.6 percent, compared with 15.2 percent in North America, 10.6 percent in Japan, and 9.1 percent in the rest of the world. (See Exhibit 2.) Boards of directors in Europe are more likely to dismiss their CEOs: The rate of forced successions at European companies in 2007 was 5.8 percent, compared with 4.3 percent in North America. The average share of departing CEOs who were forced out over the entire 10 years of data we have studied underscores Europe's position as the toughest environment for chief executives: 37 percent of all European successions were forced, compared with 27 percent in North America. In Japan, where forced successions are not customary, the 10-year average was 12 percent.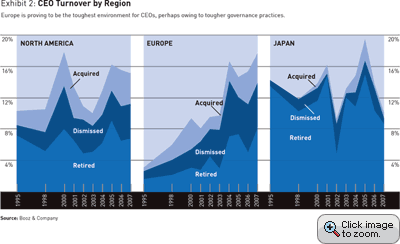 The higher incidence of CEO dismissals at European companies most likely reflects the impact of the corporate governance reforms enacted since the late 1990s by many countries, including France, Germany, Italy, the Netherlands, and the United Kingdom. We hypothesize that the cumulative result of these reforms has been a shift of power from CEOs to boards of directors and shareholders, and that the reforms have led boards to become more proactive about risk management and therefore more likely to depose a CEO when they perceive potential liability. Shareholders have also seemed to be more likely to join with supervisory boards, unions, and politicians in subjecting CEOs to greater scrutiny than they received in the past.
Another reason for the difference in European and North American rates of CEO dismissal may be their different CEO governance models. One important distinction is whether or not the CEO also serves as chairman of the board. In Europe, only 16.5 percent of CEOs leaving office in 2007 held both titles during their careers; in North America, nearly 75 percent did. A combined CEO–chairman is less likely to be dismissed. In North America (where U.S. companies dominate the data), for CEOs departing in 2007, the difference was pronounced: Only 28 percent who had held the chairman title from the start of their tenure were dismissed (that is, forced out), as were 33 percent who had been granted the title later; the forced dismissal rate for CEOs who had never held the title, however, was 57 percent. (See Exhibit 3.)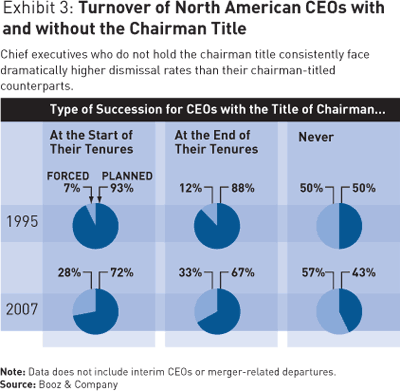 In North America, the combined CEO–chairman model persists despite long-standing recommendations from governance reformers that companies split the CEO and chairman roles. Instead, U.S. boards in particular have largely preferred to name one of the independent directors "lead director" to counterbalance the CEO. Stock-price performance data does not favor one model over the other; however, the median tenure of CEOs who have never been chairman is consistently shorter. (See Exhibit 4.) In Europe, the low number of CEOs who hold both titles reflects established governance models in many countries, which mandate separate supervisory and executive boards, as well as governance reforms that have encouraged the split of the CEO and chairman roles. (Japan follows a unique governance model whereby the CEO never holds the joint title.)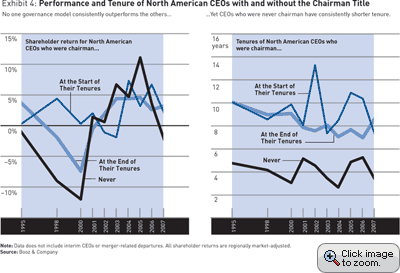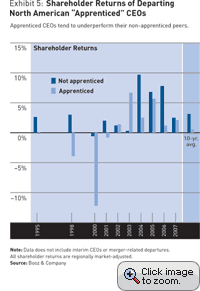 Another regional difference in governance models is the propensity of companies in some countries to appoint "apprentice" CEOs who take the reins while the outgoing CEO serves on the board as chairman, typically at the start of the new CEO's tenure. In North America, 51 percent of the outgoing CEOs in 2007 had been apprenticed, compared with 23 percent in Europe, where the apprentice model is common only in certain countries. Apprentice CEOs generally have worse shareholder performance than other CEOs. One possible reason is that the apprenticeship model undermines the power of the new CEO, limiting his or her ability to formulate a different strategy and effect change. Another possibility is that boards resort to the apprenticeship model when they feel that the pool of candidates from which they must pick is weak. Over the 10 years for which we have data, the annualized, market-adjusted total returns to shareholders for apprenticed CEOs in North America were 2.5 percentage points lower than for non-apprenticed CEOs. The performance gap, however, varies widely from year to year. The outgoing class of 2007 had only a small gap: The apprentices' returns lagged by just 0.4 percentage points. (See Exhibit 5.)