When the money not spent on R&D is instead spent on marketing, it reinforces the problem. Inflated advertising budgets often reflect a defensive mind-set: When competitors launch products with a full-bore assault in the media, executives conclude that they must follow suit with equally pricey campaigns or risk losing consumer share-of-mind. Money that goes into this type of "quick fix" is not available for the more fundamental solution of breakthrough innovation.
Another factor in the misplacement of investment is the predisposition of the R&D organizations themselves. Eighty percent of new products in a typical mature industry yield less than $7.5 million in sales their first year. (See Exhibit 1.) (To put that number into perspective, grocery is a $350 billion wholesale business globally, and sales of a major brand can top $500 million a year.) The industry logic is that competitors are continually introducing new versions of their products, so players are at a disadvantage if they don't match that steady clip. The tendency is for companies to focus on relatively small, often superficial line extensions that can be churned out quickly, as when Mars rolled out Tropical and Wild Berry Skittles candies in the early 1990s.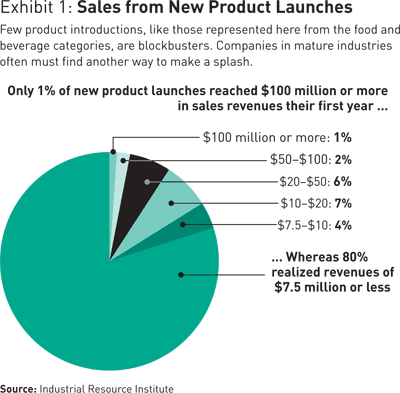 No one would argue that advertising can't pull the occasional rabbit out of a hat or that companies should stop launching line extensions. But when excessive ad­vertising and line extensions become habitual solutions, it suggests that a company is locked into a pattern of high marketing spending and a need for endless small launches, and is under-investing in the kinds of R&D efforts that would lead to greater profits.
Seven Paths to Advantage
How can companies break the cycle of low-risk, low-reward copycat innovation? Through a group of interrelated changes in strategy and execution. Successful consumer packaged goods (CPG) innovators, those whose new products establish and maintain dominance in the marketplace, tend to focus on seven areas. None of them represents a "silver bullet" on its own, and many of them are common sense, but together they make innovation more difficult to copy and lead to greater returns and higher growth. Our analysis shows that mature companies consistently neglect these areas. This is a pity, because they represent a powerful way to turbocharge an innovation engine.
1. Technology and patents. New technologies are unbeatable in giving mature industry players a meaningful advantage in the marketplace. Their power comes from providing companies with a way to meet new consumer needs, including those that consumers don't yet know they have. These innovations can have the greatest value. In consumer health care, for instance, new products that match a new technology with a new market need deliver median brand growth of 11 percent, more than double the 5 percent growth of products addressing only an existing need. (See Exhibit 2.)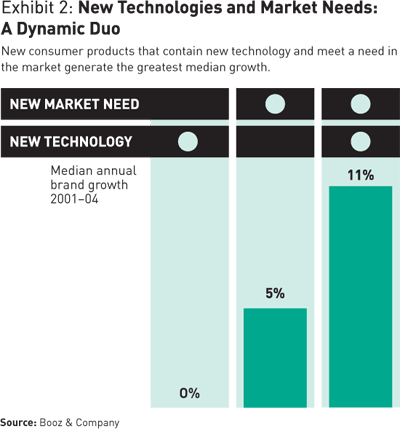 Technology can provide a way to solve a significant consumer problem, as Ore-Ida (a subsidiary of H.J. Heinz Company) proved with its Extra Crispy Easy Fries in 2004. A persistent complaint about frozen french fries was that they emerged soggy from the microwave. Ore-Ida solved this problem with its "X-Crisp" flash-freeze processing technology. The result was genuinely crispy microwaved fries cooked in four minutes, a successful new product.
Even if new technology doesn't prevent competitors from copying, it can significantly delay their launching of a copycat product. An example is Kellogg's Special K Red Berries cereal, which introduced a freeze-dried berry process and captured more than $100 million in its first year — and it got a two-year jump on archrival General Mills's version.
Alongside advantaged technologies comes the responsibility to defend them. This point is not lost on Procter & Gamble Company, which has a policy of zero tolerance on patent and other infringements. P&G has taken legal action, for example, against Whitehall Laboratories to defend innovations in a hair conditioner formulation and against Perrigo Company to protect its core Olay skin-care brand.