---
Michael O'Leary: A Life in Full Flight: The Story of the Man Who Made Ryanair Take Off
By Alan Ruddock
Penguin Ireland (available through specialty retailers), 2007, 448 pages
---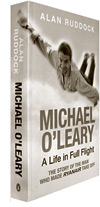 "Business books are...usually written by wankers." So says Michael O'Leary, CEO of Ryanair, one of the world's largest and most successful international airlines. So it's not surprising that he did not cooperate with journalist Alan Ruddock, who wrote this highly entertaining story about O'Leary and his company. The book's title makes it sound like a biography, but it's really the story of how O'Leary built Ryanair into a powerhouse adored by its customers and feared by its competitors. No matter. The biography of the company and the biography of the man are essentially the same: Since he joined the foundering airline in 1988 as the watchdog for its owner, legendary Irish businessman Tony Ryan, it's not clear that O'Leary has had a life outside the company.
O'Leary and the Ryanair business model fit the principles of crude Darwinism and neoclassical economics perfectly. It's all about survival of the fittest and the practice of a selfish rationality that, according to modern economics, makes up the invisible hand of free markets. O'Leary is fanatical about cutting costs; air crew who are looking for jobs have to pay for their interviews with Ryanair and fund their own training and uniforms if they are accepted. Head office staff must supply their own pens and are forbidden to charge their cell phones at work. O'Leary has no passion for the airline business at all. What turns him on, apparently literally, is making money. After keeping a convenience store he owned open one Christmas Day and making a bundle, he said, "I have never had a sexual experience in my life like it. The feeling of having one wad of notes pushed down one side of my trousers and another wad of notes down the other…."
A manager with a business model like Ryanair's can learn very little from a business book. The company's "pile it high, sell it cheap," point-to-point flight strat­egy, borrowed from Southwest Airlines, is as old as commerce and works wonderfully well — for Ryanair. Its customers, 99 percent of whom book their fares online, regard air travel as a commodity and are prepared to live with all kinds of inconvenience to get the deals Ryanair offers. The managerial in­novations are not in the strategy but in the details of its implementation in the specific context of a point-to-point airline operating in Europe. O'Leary has proved a master at extracting fees from European regional airports desperate to build their local economies. Ryanair's competitors are mostly national legacy carriers constrained by onerous labor agreements with militant unions, expensive aircraft, huge infrastructures, and obligations that they cannot abandon unless entering into bankruptcy. After the deregulation of European air travel, competitors can do very little against Ryanair; Michael O'Leary relishes thumbing his nose at them and everyone else.
---
Lasting Contribution: How to Think, Plan, and Act to Accomplish Meaningful Work
By Tad Waddington
Agate Publishing, 2007, 128 pages
---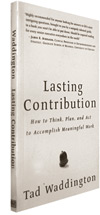 Systems thinking is "in" these days. After years of teaching students how to think analytically, many business schools are casting around to find ways of teaching students of management to think more holistically or systemically. Experts in several fields have suggested that one of the best ways to understand cause and effect in complex systems is to go all the way back to Aristotle and his four causes, or "explanatory factors." Tad Waddington, director of performance measurement at Accenture, has written a new, highbrow self-help book, Lasting Contribution: How to Think, Plan, and Act to Accomplish Meaningful Work, using Aristotle's four explanatory factors as the organizing framework.
Waddington has an interesting academic background, including a Ph.D. in measurement, evaluation, and statistical analysis and a master's degree in the history of Chinese religions. His book is a short, lively meditation on thought and action that you can either read from start to finish or dip into by using the comprehensive index or glossary, or by choosing from a set of provocative questions he calls koans (after the paradoxical statements that Zen masters pose to their students). The basic organizing structure consists of the four causes — what has to be done (efficient cause), the resources needed (material cause), the design or plan (formal cause), and the reason (final cause). Nothing revolutionary here, although it's surprising how often corporate plans seem to skip the first and the last and focus only on the second and the third. Within each of these headings, however, the author conducts a thoughtful exploration of what the concepts mean in the context of a complex system. In the process, he summons a wide range of in­sights drawn from eclectic sources: The Little Engine That Could puffs along happily with philosophers Hans-Georg Gadamer and Bertrand Russell.
The bottom line, to paraphrase from the summary of the last chapter, is: You can make a lasting contribution to the world if you pursue a worthy goal, master your resources, have a plan for maximizing your efficacy, take sophisticated action, and coordinate the four causes so they work together. Stephen Covey says something similar using seven points but, as Tad Waddington proves, Aristotle did it long ago in only four.