Charlene Li and Josh Bernoff
Groundswell: Winning in a World Transformed by Social Technologies
(Harvard Business Press, 2008)

Christopher Vollmer, with Geoffrey Precourt
Always On: Advertising, Marketing, and Media in an Era of Consumer Control
(McGraw-Hill, 2008)
Lucas Conley
Obsessive Branding Disorder: The Illusion of Business and the Business of Illusion
(PublicAffairs, 2008)
---
Where there's mystery, there are sure to be book sales. And even the most studied marketing practitioner, if being entirely honest, might admit that it's a mystery why "Just do it" has proved such an enduring tagline for Nike, or how Starbucks, which has eschewed traditional marketing, has built such a strong brand. Thus, marketing professionals regularly unleash tomes upon the unwashed masses who inhabit corporate America, attempting to answer the unanswerable: why and how marketing works. That said, there's something different about some of this year's crop of marketing books, and as I went through the difficult and at times tedious process of deciding which books to review, a few rose to the top of the pile.
What was different about the best books? They focused on the fact that everything marketing practitioners thought they knew about the craft has changed irrevocably, altered by a technology-fueled upheaval in the established world order. What used to be a tidy one-way message delivery system, in which marketers used advertising agencies to create and place ads in media where the target customer was sure to see them, is now a two-way free-for-all with consumers front and center in the discussion.
Today, not only do consumers have myriad media options, including hundreds of cable channels, millions of Web sites, and commercial-free satellite radio, they also have the newfound ability to talk back to marketers via Weblogs, chat rooms, and other social media. So as marketers try harder than ever to make an impact on consumers, consumers are turning away from ads and defining brands for themselves. To a great extent, the historical lessons of marketing have become irrelevant.
Therefore, I swiftly tossed aside books on branding in the new China, books on how to market to men (and women and children, too), and even one on the cutting-edge practice of mobile advertising. The fine points of particular targets or media channels just don't matter until marketers get a handle on the larger concept of how to reach, and listen to, increasingly empowered consumers. The easiest book to cast aside was the one that promised to revive "the lost art of creating killer slogans." At a time when the next killer slogan might be delivered via YouTube by a passionate fan, pretending that marketers can focus on old tools to reach, let alone persuade, consumers seems hopelessly misguided.
The three best marketing books of the year all explore the forever-changed marketing landscape, but from different viewpoints. One focuses on consumers' ability to talk publicly about, and with, marketers, and how that should impact not just brand strat­egy, but even corporate strategy. The second is a comprehensive take on how radically things have changed in marketing, mixing in social media as a key ingredient, but far from the only one. And the third, the only consumer-focused book of the group, explains the cacophony that results when marketers, beset by the increasingly difficult task of trying to get noticed, raise their branding initiatives to obsessive levels. Case in point: Cheetos-brand lip balm.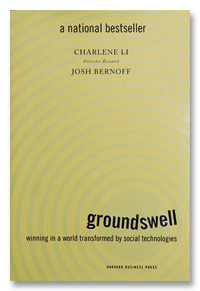 Surfing the Groundswell
Most marketers are having trouble navigating this new landscape. In a recent study conducted by Booz & Company, only 26 percent of marketers said they felt their organization was digitally savvy. The irony, and one that is dealt with beautifully in Groundswell: Winning in a World Transformed by Social Technologies, is that those marketers who harness digital channels to listen to and interact with consumers can strip away many of the behavioral mysteries that have constrained their effectiveness in the past. Written by Charlene Li and Josh Bernoff, two longtime analysts with the Cambridge, Mass.–based technology consultancy Forrester Research (Li left the company in July 2008), the book explores the role of all forms of social media — from blogs to wikis to corporate-sponsored forums — in capturing the momentum generated by consumer wants, needs, opinions, and desires.