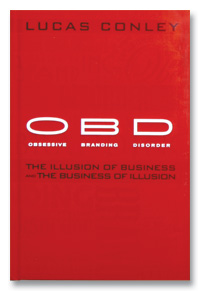 Dysfunctional Branding
Just in case readers of Groundswell and Always On still don't understand that marketing is no longer about being the loudest, most pervasive brand on the block, they need to read Lucas Conley's Obsessive Branding Disorder: The Illusion of Business and the Business of Illusion. Conley, who has written for the Atlantic and Fast Company, among other publications, calls into question how deeply, and often weirdly, the corporate urge to brand has gone. "Clearly our obsession with branding has gone too far," he writes, "when priests are peddling Disney, liquor brands are sponsoring weddings, and mothers are selling the rights to name their children." (Yes, these marketing "initiatives" actually happened.)
Conley's concern over the intrusiveness of branding seems particularly on target now, when technol­ogy brings consumers and brands closer, whether or not consumers want, or are aware of, that level of interaction. The book is also a timely read because many marketers are reflexively trying to brand harder in an effort to break down consumer indifference and drown out consumer-created opinions about their brands.
Conley's problems with what he calls OBD (obsessive branding disorder) are not limited to the idea that practices such as word-of-mouth marketing can violate our humanity. He rightly objects to the use of branding as a replacement for truly innovative products and ser­vices, as well as the fact that advertisers mistakenly see branding as an end in itself, whether or not it accurately reflects their products and services — or even whether or not it is promoting a positive image. To illustrate, he points out the battered brand of New Orleans, where in the aftermath of Hurricane Katrina, Mayor Ray Nagin responded to a TV reporter's question about the city's high murder rate, saying, "[It is] not good for us. But it also keeps the New Orleans brand out there."
As an antidote to OBD, Conley cites the examples of Spanish retailer Zara, Google, and In-N-Out Burger, brands that have prospered without large ad budgets. "What unifies these companies isn't their disdain for advertising," he writes, "but their initiative in delivering a high-quality product that people like, at good value."
Obsessive Branding Disorder goes on to detail the lengths to which some modern-day products go to brand themselves. In one hilarious anecdote, Conley recounts a marketing consultant's idea that carmakers should individualize and brand the sound their turn signals make, because, on an annual basis, drivers spend 18 hours listening to their turn signals.
There's some phenomenal detail here, particularly because Conley has done on-site interviews with many of his subjects. In a lengthy section about the "sonic branding" company Audiobrain, he describes founder Audrey Arbeeny's outsized reaction to the voice of a client's customer service representative. He writes: "[Her] call to the company's main office number was answered by what sounded to her like 'a seventy-five-year-old chain-smoker.' Recalling the experience, she clenches her fists. 'This is a company with very sexy voices in its ads. Way off brand!'"
Conley isn't entirely unsympathetic to brand marketers, and his efforts to humanize those who contribute to OBD — and to give credit to some highly unusual marketing ideas — help make the book more than a 200-page rant. He seems awestruck, for instance, by Charmin's Potty Palooza, a "twenty-seven-room deluxe traveling bathroom facility" that has appeared at the Ohio State Fair and the Super Bowl. "By redefining a visit to the toilet as a commercially viable branding opportunity, Charmin has placed its brand squarely between private and public life," he writes.
Obsessive Branding Disorder doesn't offer advice to businesses other than that they should innovate first and brand later. Its main purpose is to raise consumer awareness and skepticism of the deep role that branding plays in their lives. To the extent the book succeeds in that endeavor, marketers must heed its message.