---
A Sense of Urgency
By John P. Kotter
Harvard Business Press, 2008, 208 pages
---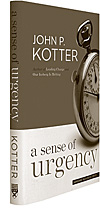 In a time of global economic crisis, it might seem superfluous to read a book about the importance of a sense of urgency in organizational change. But John P. Kotter, the Konosuke Matsushita Professor of Leadership Emeritus at Harvard Business School, would argue that such current events have a tendency to promote what he calls a false sense of ur­gency. This condition com­pels people who are "anxious, angry, and frustrated" to indulge in frenetic activity that includes nonstop meetings and wall-to-wall PowerPoint presentations, but the same people are often focused on myriad internal issues that work at cross-purposes.
In A Sense of Urgency, Kotter expands on an idea from his 2002 book, The Heart of Change: Real-Life Stories of How People Change Their Organizations. He argues that only a true sense of urgency can replace the complacency that pervades most organizations. This true urgency is one that energizes people with a "powerful desire to move and win, now." Kotter outlines one strategy and four tactics for creating such an attitude. The strategy is to focus relentlessly on external issues and actions, to make progress every day, and to purge low-value activities, focusing on people's hearts rather than their minds. The first of the four tactics is to "bring the outside in," by using emotionally compelling means to dramatize what is happening in the external world; the second is to personally behave with urgency every day; the third is to find opportunities in crisis; and the fourth is to deal with the "NoNos" — people who continually downplay the need for urgency.
The strategy and tactics for creating urgency are well illustrated by stories and cases in a book that has been designed for light reading. Yet it is disappointing to once again see "complacency" raised to the status of a root cause of ineffectual change efforts. Like the charges of "greed and corruption" on Wall Street, "complacency" is an emotionally satisfying accusation, but hardly the best starting point for the search for complex causes and their remedies. People become complacent for many reasons, including experiencing contextual constraints and social incentives that maintain their behavior. Until we understand and address these constraints and the social determinants of behavior, complacency will always be with us.
---
Inside Project Red Stripe: Incubating Innovation and Teamwork at the Economist
By Andrew Carey
Triarchy Press, 2008, 232 pages
---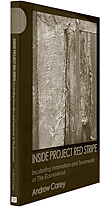 Luigi Pirandello's play Six Characters in Search of an Author begins with actors rehearsing another of his plays, titled Mixing It Up. As the manager of the play and his cast go listlessly about their task, they are interrupted by six strangers, who explain that they are unrealized characters in search of an author who will finish their story. Eventu­ally the manager agrees to let the characters tell their story. What follows is a hall of mirrors, reflections on reflections; theater about theater until the medium itself shatters.
The new book by author and publisher Andrew Carey, Inside Project Red Stripe: Incubating Innovation and Teamwork at the Economist, has close connections to theater. The project was launched in 2006 to develop and bring to market innovative Web-based ventures. The opening listing of the members (there are six) is presented under the heading "Dramatis Personae." After the cast list comes an injunction on how not to read the book. The author's role, he explains, was akin to that of a modern anthropologist who, unable to pass judgment on the behaviors of other people, could only record what he saw and felt while living among them.
The resulting work is a book about books — a meta-book. Lacking a chronological narrative, the work is not designed to be read sequentially. Indeed, its nonlinear format pushes the reader toward the free online version. This Web site offers an interactive, gamelike pro­cess of leaps and recursions, zooming in and zooming out. You can't exactly choose your own adventure in Project Red Stripe, but you can choose how to structure the experience of the inherently messy, pulsing nature of the creative process in which the medium mimics the message.
The book itself is a series of reflections on the innovation pro­cess that highlights the limitations of the conventional, paint-by-numbers, management-by-proverb, "how-to" approach of most management books — especially when dealing with a story such as this one, in which the team is tasked with exploring ideas in the universe of Web 2.0/3.0. There are few answers here but lots of good questions. They are expressed in the form of dilemmas at the end of each section, underlining the fact that management decisions are highly contextual, and that what you choose to do will depend upon the situation you are in. Many of these decisions look like trade-offs; more of one side leads to less of the other. What one is really looking for, of course, is creative integrations, where both sides are reconciled in the form of both…and, rather than compromised by either…or.
When Six Characters in Search of an Author was first performed in Rome in 1921, it got a decidedly mixed reception, with cries of "madhouse" from the audience. Today it is hailed as a pioneering classic. Inside Project Red Stripe will surely experience the same initial response. The project itself was widely re­garded as a failure; the team came up with a Facebook-like social networking site for charitable organizations, but there was no clear way to make money out of it. Most readers (and every innovation expert) will have his or her own take on the reasons for the failure. But readers' responses to this work may be a litmus test for their own ability to live with the frustration and uncertainty of the creative process. After all, failure is the norm in life, but failure in the short term often lays the groundwork for success in the long run. It is the archetypal structure of some of our favorite narratives: Success comes through failure. Any entrepreneur will confirm this. (Just ask Thomas Edison.) The complete story of the six characters on this team and their project cannot be written — yet. A glorious failure in fact may become a future classic in its telling.

Reprint No. 09111
Author Profile:
---
David K. Hurst
is a contributing editor at
strategy+business
. His writing has also appeared in the
Harvard Business Review
, the
Financial Times
, and other leading business publications. Hurst is the author of
Crisis and Renewal: Meeting the Challenge of Organizational Change
(Harvard Business School Press, 2002).