But we should also point out that the Japanese economy has tumbled over the past decade, and the number of Japanese companies that even make our global list has been eroding steadily, particularly in the past two years. In fact, Japanese companies now constitute less than 10 percent of our total sample, as compared with 26.1 percent in 1995, and 14.9 percent as recently as 2006. There were only 38 succession events at the Japanese companies in our sample last year, 29 of which were planned. The increase in forced succession, in particular, should be understood in the context of the Japanese economy's overall decline.
The rest of Asia, as might be expected given its growth trajectory in recent years, is emulating the mainstream in other regions in terms of CEO turnover patterns. The number of companies from the rest of Asia included in our study climbed to 569 in 2008, nearly double the 2006 count; such organizations now account for 23 percent of the top 2,500 companies worldwide. Just over half are in Greater China, including Hong Kong and Taiwan. As these companies make the transition from precipitous to more stable rates of growth, it is reasonable to foresee a heightened level of turnover; they will naturally seek out more professional managerial experience at the top of their organizations.
It is our belief, based on experience working with clients in the Asia/Pacific region, that they are also motivated by the desire for stable and steady leadership. As has long been the case, the mean age of both outgoing and incoming CEOs in Japan is much higher than it is in North America or Europe. Moreover, Asia demonstrates a far greater penchant for growing its CEO talent at home. Eighty-nine percent of the CEOs who took office in Asia in 2008 are insiders, as compared with a global average of 76 percent.
The other regional distinction where we saw outliers move toward the middle in 2008 was in the area of corporate governance, specifically the separation of the roles of chairman and CEO. North American companies (which are predominantly U.S.-based) have historically combined the two; as recently as 2007, 73.2 percent of the chief executives leaving office in North America held both titles, and 24.4 percent had done so from the beginning of their tenure. In 2001, one of every two departing North American CEOs (50.5 percent) had also held the title of chairman since taking office.
Now, fewer than one in five CEOs in North America starts out with the combined chairman and CEO role, which represents a dramatic shift. (See Exhibit 5.) According to our analysis of the 2008 freshman CEO class, only 18 percent were appointed to the chairman post, and the global figure was just 12 percent. This greater tendency to split the roles brings North America more in line with long-standing practice in Europe, Japan, and the rest of Asia, where four of every five CEOs leaving office in 2008 were never chairman.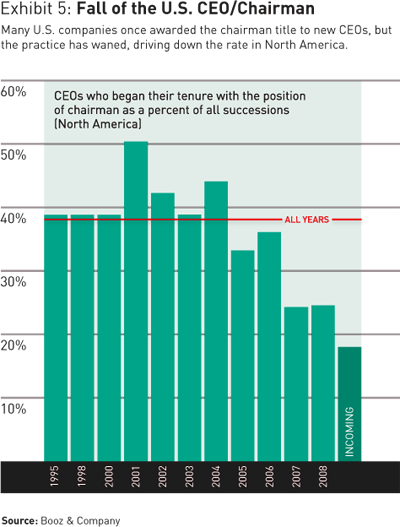 A related phenomenon that is worthy of note is what we call the apprentice CEO, a CEO who takes office under the wing of the former CEO, who moves into the chairman role. This succession model has always been favored in Japan, where 82 percent of outgoing CEOs over the 11 years we've studied were apprenticed. In North America, it has been a much less prevalent practice, partly because the CEO and chairman roles were more often combined for the reasons we've mentioned; only 42 percent of outgoing CEOs were apprenticed over that same time period. But our analysis of the 2008 incoming class indicates that North America is moving toward the Japanese model. In planned successions, 57 percent of incoming North American CEOs are apprentices, indicating a new preference on the part of boards for seasoned hands at the helm. (See Exhibit 6.)