Toward a New Talent Model
The economic crisis has created a complex challenge for corporate leaders with respect to talent. They must stem the leakage of the highest-quality people even as they reduce overhead. They must reinspire employees and reinvigorate morale. Most urgently, they must realign the company's talent practices with its strategic priorities — which, in many cases, the recession will have forced them to refocus. And they must revamp their talent model to reflect changing demographic trends; as companies begin to recruit and train people again, they will find a very different talent pool than they have had in the past.
Demographers have long foreseen dramatic shifts that would affect the makeup, location, preparedness, and expectations of every company's workforce. Now those trends are here, and many companies are unprepared. Combined with the economic downturn, these shifts have created a perfect storm of workforce pressures on companies around the world.
One shift involves the growing numbers of Chinese and Indian people in the global talent marketplace; another is the expanding achievement gap between women and men. In many countries, more women than men graduate from colleges and universities, and women, barely present on corporate payrolls 30 years ago, now make up more than half of the global educated workforce. White men now make up less than 20 percent of the "tertiary" educated population (defined as those with a college or university degree), from which most corporate employees are drawn, and potential managers from North America and western Europe are outnumbered more than three-to-one by their counterparts from the rest of the world. (See Exhibit 1.) As a result, leading companies are already finding that they cannot simply passively bring women and people of color into the workplace; they must prepare them for greater positions of responsibility.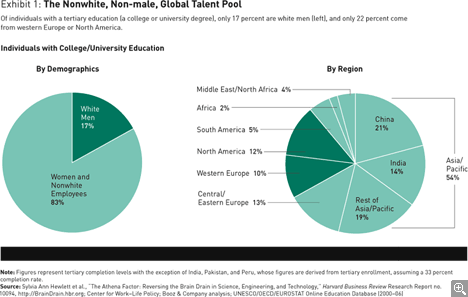 One company directly addressing this challenge is Johnson & Johnson (J&J), which has identified high-performing women of color as a pivotal group and successfully piloted an initiative aimed at accelerating their career development. Called Crossing the Finish Line, this program for director-level women of color and their direct supervisors consists of a four-day session: two and a half days for the high-potential women, and one and a half days for their (mostly male) supervisors. The two groups overlap for half a day in the middle, during which the women share what they have learned, their supervisors respond, and together they create action plans for career acceleration — which are rolled out upon completion of the program. Company data shows that women who participate in the program are more likely to get promoted than those who do not. It has since been expanded to include men of color.
"This program helps us capitalize on talent that is reflective of the global environment and different from the traditional mold," says JoAnn Heffernan Heisen, chief diversity officer of J&J. Companies are similarly adapting to generational shifts, which vary by region. In the mature economies of Europe, Japan, and North America, the "demographic bulge" of the baby boom generation (born between 1946 and 1964, currently ages 45 to 63) is beginning to move out of the workforce. The swelling ranks of retirees, low birth rates (particularly among the college educated), and caps on immigration are all factors that will fuel a reduction of between 20 and 40 percent in the working-age population over the next few decades. Meanwhile, in transitional economies such as China, India, Brazil, and Russia, talent markets vary widely. India benefits from both high GDP growth and a young, highly skilled workforce, whereas China and Russia both confront a shrinking pipeline of young workers. All these countries need better-educated entry-level talent to sustain strong growth. (See Exhibit 2.)