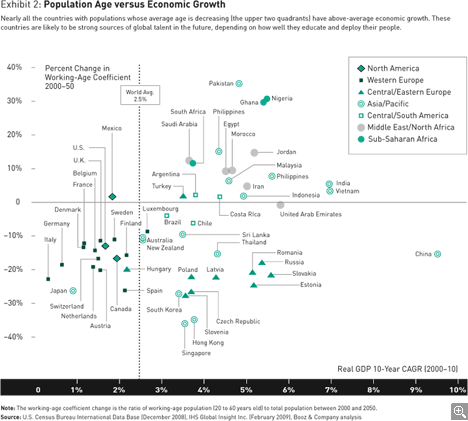 Within global companies, three generations coexist in the workforce, each with a distinct demographic profile. Baby boomers expect to retire later than previous generations did (on average, four years later), because of increased life expectancies and decreased savings, especially after the global recession. The baby boomers are followed by a much smaller cohort: Generation X (born between 1965 and 1978, currently ages 31 to 44). Members of this group, who would ordinarily represent the corporate bench strength for leadership, are in short supply and, at the same time, are finished with "paying their dues" and ready to step into leadership positions. Finally, the millennial generation, also known as Generation Y (born between 1979 and 1994, currently ages 15 to 30) is entering the workforce. This generation outnumbers even the baby boomers; by 2025 it will make up 60 to 75 percent of the global workforce. Members of Generation Y are drawn to companies that demonstrate social responsibility and offer service-oriented sabbaticals and eco-friendly workplaces.
All three cohorts have made clear their desire for greater flexibility. They no longer want (or have given up hope of finding) the "organization man" model of lifetime employment and rigid hierarchies. They are interested in striking "talent deals" with their employers to balance their work obligations and private lives. They thus seek modularized work arrangements such as seasonal leave and flexible time. But they also expect to be part of high-impact teams that generate meaningful and valued results — within their companies and, if possible, in the world at large.
By contrast, the old prevailing talent model, still in place at many companies, assumes lockstep career progression for high-potential people (whose ranks are still quietly filled mostly by white men from North America or Europe). In these companies, it is assumed that people are motivated primarily by money and that the environment within the company should be stable and predictable. Employees are expected to move in linear fashion up the ladder of a vertical function or business line. They are mentored through, and learn through, face-to-face interaction, and get only one chance to enter a fast-track progression, generally in their 30s. From there, work obligations override all other personal interests and priorities, including family.
A more appropriate, 21st-century talent model assumes a workforce that is global, diverse, and gender-balanced, with discontinuous career progressions, in which high-potential employees may take time off or work for different types of organizations along the way. Under this model, companies value functional and leadership skills, embrace new employment structures (such as highly responsible part-time work), encourage virtual workplaces (in which people work together across long distances, communicating electronically), and offer nonmonetary rewards alongside financial rewards as a way to attract people. Family, community, and work are intertwined in a variety of ways, and the result is a more flexible, dynamic, and unpredictable workplace in which people feel they are continually building their skills and learning from the enterprise.
This new talent management model allows a much broader group of people to assume positions of responsibility. It promotes innovation, growth, and breakthrough performance by integrating the needs of the business with those of individuals. And when aligned with a clear and focused corporate strategy, it allows top management to optimize compensation, training, and other expenses; maximize the productivity and performance of the workforce; and gain competitive advantage.
But it takes a CEO to put such a model in place. The highest-performing organizations don't leave talent performance acceleration to HR alone; they make leaders at all levels directly accountable for improving the capability and performance of their people. HR provides the necessary tools and program support; leaders oversee the process and determine the outcomes. Chief executives need to declare talent a priority, and to lead change in the four building blocks of global talent innovation: differentiated capabilities, performance acceleration, leadership development, and a talent culture. (See Exhibit 3.)