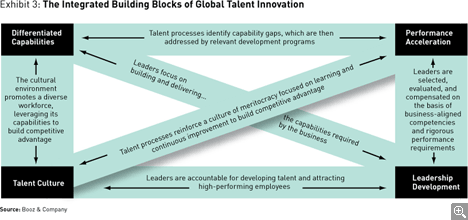 Differentiated Capabilities
Business success relies heavily on establishing the right capabilities — an interconnected set of systems, tools, processes, and knowledge that can be put in place to reach the most critical groups of customers. The differentiated capabilities that distinguish each company from its competitors vary widely among and within industries. The differentiated capabilities of a fashion retailer might include the ability to dramatically shorten time-to-market for cutting-edge designs, whereas those of a high-tech company might include best-in-class product customization. A capability is not the same as a functional capacity, such as forecasting, inventory planning, or R&D. It's cross-functional, conceivably extending from manufacturing to marketing to finance, and across multiple regions and lines of business.
People are the key to differentiated capabilities. To create and sustain such capabilities at a world-class level, companies need to take the following steps:
• Understand and prioritize the critical capabilities required for competitive advantage. Companies should conduct an executive review of their business strategy and capability requirements. Then they should take inventory of their current skills, profiles, performance, and potential, identifying the high-priority gaps and developing talent strategies to close them.
• Identify key talent segments. Most employees will fall into one of four general categories, based on their ability to provide the needed capabilities: (1) Pivotal employees, those with specialized skills, knowledge, and abilities that contribute directly to fulfilling a company's strategic objectives, are the most crucial group. In a consumer products company, for example, this group might include product development managers and marketing directors. (2) Core employees are people critical to executing the strategy. (3) Support employees are people whose value is real but whose duties could be delivered through alternative means, including outsourcing. (4) Noncore segments are those with easy-to-duplicate skills that do not serve capability requirements. Companies that segment the workforce in this way can more easily see how to tailor talent strategies and allocate talent investments more effectively.
• Develop tailored value propositions. To attract and hold the best people from all three of the most-desired cohorts — the pivotal, core, and support employees — companies need new and diverse attraction and retention drivers: competitive compensation and benefits packages, innovative job designs, flexible schedules, well-crafted career development opportunities, strong leadership and succession planning practices, a distinctive culture, and a welcoming work environment. Tailored value propositions might include socially oriented initiatives that deliberately engage the passion and potential of Gen Y, or "off-ramp and on-ramp" career paths that allow highly qualified women to take time off for family obligations without sidelining their opportunities for promotion and greater responsibility. These propositions will vary by company; the factors that motivate a pivotal employee in the pharmaceutical industry might be very different from those that are relevant to his or her counterpart in high tech.
Late in 2008, pharmaceutical giant Pfizer Inc. sought to engage employees by launching the Global Access initiative, partnering with Grameen Health (an affiliate of Grameen Bank) in Bangladesh to improve access to health care through rural clinics. As soon as the initiative was announced, project leader Ponni Subbiah was swamped with expressions of interest. "Employees wrote to me from all functional divisions within Pfizer — research, marketing, manufacturing, operations, auditing — telling me how happy they were to see Pfizer involved in this area and how it made them proud to be part of this company," he says. Employees were so eager to contribute that many offered to volunteer after working hours or on weekends.
Performance Acceleration
Organizational success hinges on the collective daily decisions and actions of hundreds, perhaps thousands, of individual employees. The ability to engage and motivate them is the essence of performance acceleration. Accelerated performance is shaped by the company's assessment and feedback processes, compensation and incentive structures, and development and advancement models. To rethink and redesign these elements, which have traditionally been in the domain of the human resources department, the following steps are needed.