Framing the Alternatives
Irene Rosenfeld: When I returned to Kraft in 2006 as CEO, I spent a lot of time talking to people about what was working and what wasn't. I talked to employees and sought out customers. And I asked our board what issues they thought were getting in our way.
These conversations confirmed my sense that we had let the pendulum swing much too far toward centralization; we had a structure that was 80/20 global versus local. We needed to move that pendulum back. The only question was how. It was easier to look at possible alternatives because we all saw that what we had in place wasn't working.
Gary Conte: Given where Irene wanted to go, it became very clear that we had to go back and create much more accountable business units (we now call them BUs), as a way of pushing decision making down the hierarchy, deploying resources where they were needed, and giving our leaders more freedom to act. Going to BUs meant raising the stakes for the managers we appointed.
The main idea behind OFG — shifting accountability and resource allocation into the business units — never changed once we started talking. There were some variations on the theme: We identified functions that would take a hybrid approach, with some control remaining in the center. And we always believed that some things needed to stay at the corporate level en­tirely — governance, for example. We just wanted to be sure that the things we defined in that way were very few and were of the highest priority.
At the same time that we wanted to get closer to the markets, we couldn't forget that at Kraft Foods, big is beautiful. We needed to continue to find ways to use our scale to our advantage. So as we developed these accountable business units, we also gave a lot of thought to the collaborating mechanisms that would help us take advantage of our size. Our corporate functional experts are one such mechanism; these people work across our businesses to build capabilities and disseminate best practices. Another coordinating mechanism: the councils and networks we've established to pursue market opportunities that cut across business units or categories. Corporate strategic planning is a third mechanism, involving the identification of strategic platforms that business units must address in their own strategic plans. Health and wellness is an example of a strategic platform that started in corporate and is now important across our portfolio.
The Defining Moment
Irene Rosenfeld: We began talking about a sweeping decentralization in early 2007. I knew this would represent an enormous undertaking for the corporation. Had we been making this kind of change at a time when all was quiet on the business front, it would not have been as big a deal. But that wasn't the case.
I lay awake many nights thinking, "Is this the right thing to do, and is this the right time to do it?" In the course of those sleepless nights, I came to the conclusion that we couldn't get where we needed to go if we didn't do it. How I felt was irrelevant, though — it was really about how the team felt, and whether they would get behind the decision.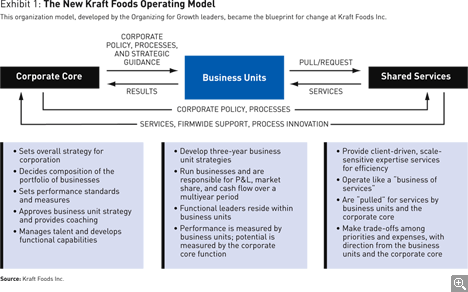 I held many meetings with the various teams, talking about the pros and cons of a sweeping decentralization plan. The business managers supported it from Day One — no big surprise there; when all was said and done, such a change was going to give them more autonomy. As for the functional leaders, it's probably fair to say that they were at different stages of acceptance.