For all the chaos in the global economy since early 2008, some things have not changed. The vast majority of banks that were in business then are still standing. The purpose of banking is the same. Banks provide a safe haven for the savings of individuals and businesses, they support productive human endeavor and eco­nomic growth by efficiently and effectively allocating funds, and they bridge the divergent maturity needs of short-term depositors and long-term borrowers. If the global financial crisis has demonstrated anything, it is the continuing and essential value of these services to society.
The fundamental needs of banking customers are also unchanged. Individuals and organizations need bank accounts and services that enable them to safely hold cash and make transactions. They need access to credit — in forms ranging from microcredit to massive corporate loans — to enable investment and economic advancement. Individuals, businesses, and institutions need to protect themselves against a range of risks that could not be borne at either an individual or an organizational level. Customers need savings and wealth creation vehicles in which to invest their money. And they need periodic advice on their financial situation and on appropriate products and services.
Finally, the core organizational capabilities that banks rely on as they pursue their purpose and meet customers' needs are still the same.
What, then, is different? The environment in which banks operate and compete. Three of the world's largest retail banks are now Chinese state-owned enterprises. Six of the 20 largest banks are new to the top order. Nine are based in the Asia/Pacific region, including two Aus­tralian banks and HSBC Group (whose CEO, Michael Geoghegan, is moving from London to Hong Kong). (See Exhibit 1.) Stand-alone investment banks, which formerly dominated much of the sector, have all but disappeared. Consolidation is creating high levels of concentration in the banking industry; witness JPMorgan Chase's takeover of Wash­ington Mutual in the U.S., the acquisition of HBOS by Lloyds in the U.K., and Westpac's merger with St. George Bank in Australia. The ranks of the truly global retail banks are thinning, as yesterday's titans (such as the Royal Bank of Scotland, Bank of America, and Citigroup) retreat to the security of their home markets and capital bases, and as domestic banks merge, disappear, or narrow the focus of their businesses. The level of government regulation and ownership in the sector has risen dramatically.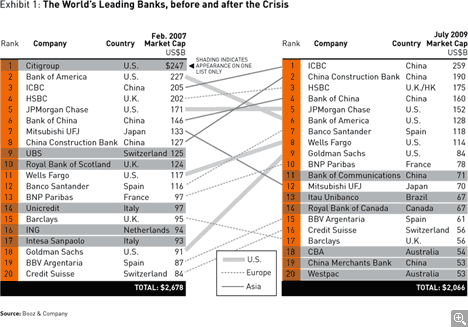 The banking industry will almost certainly have to adjust to continued low growth — in its own revenues and in the broader economy. Its business models are being altered. The value propositions of seemingly timeless models in mortgage brokerage and insurance, private banking, securitization, and even financial advice are being questioned. The independence and relevance of the institutions that support confidence in the banking sector — rating agencies, credit bureaus, and regulators — have been compromised. Sovereign risk (the danger that a government will be unable to meet its financial obligations) has become a component of risk management at some banks, because they now function only with the support of their home governments.
Finally, the public trust on which banks and bankers depend has eroded. This trend has been exacerbated recently as some of the banks that received U.S. and U.K. public bailout money have gone on to reap record profits, and some have continued to pay massive bonuses to their staff. Besides the visible populist reaction against this in many countries, there is also a serious decline in the credibility of the banking profession among long-term investors, pension fund and endowment managers, and large depositors.
As banks attempt to survive and prosper under these circumstances, their leaders can neither conduct business as usual nor adopt short-term fixes and half measures. The most successful banks will respond at a more holistic level, changing the way they operate. And as they do, and as their business models shift, the very nature of business will change for those sectors and individuals that depend on banks for security, stability, growth, and capital. Which is to say, everybody.