The extent to and speed with which banking regulation will address these issues will vary from one nation to the next, depending in part on the strength of local banking systems, the broader economic outlook, and the market philosophy that holds sway within each government. But in general, state ownership and regulation will rise. Government owners will tend to favor activities within national boundaries, thus constraining global aspirations. They may break up banks, and recombine the pieces, to create single-purpose utilities. They may set up their own providers of basic services, such as low-cost banking and savings; they may increase loan portfolio requirements. They may also siphon off cash flow in the form of dividends to the state, thereby limiting investment options and potentially stifling innovation. These government owners will almost certainly demand a greater focus on forensic reporting, particularly in areas of public interest such as economic stability or in areas related to a political agenda such as health care. And there could well be a war for talent between private-sector and public-sector financial institutions, similar to the competition for health-care and education professionals in most developed economies.
On the regulatory side, we will probably see the return of a Glass-Steagall-style separation of the industry, into retail banks, investment banks, insurance companies, and wealth-oriented businesses. Financial-sector mergers will be more closely monitored to maintain competition and avoid more too big to fail (or "too complex to fail") episodes. Australia's "four pillars" pol­icy, which has prohibited mergers among the country's four biggest banks since 1990, is likely to be a model. Regulators might set prices for critical products such as low-cost transaction banking, basic credit, retirement savings and pensions, life insurance, and health savings accounts; they will probably calculate minimum capital requirements in more sophisticated ways, linked to economic cycles, the fluctuating risk appetites among banks, and compensation models. There will be more comprehensive and onerous reporting requirements and a general demand for transparency and longer-term incentives, particularly in compensation models, to limit risk exposure.
Much debate is taking place about the individual measures and how effective they will be at averting future crises, but the overall trend toward greater regulation is inevitable. Most importantly, if banks do not or cannot fulfill their larger societal purposes, governments will stay involved longer with an even heavier hand. This could result in greater stability in the short term, but a less global, less innovative, and less talented financial sector over time.
Back to a Simpler Value Chain
The banking value chain was once a simple, clear flow of products and services, with typically only a single bank (and, at most, one intermediary) between the investors who held capital assets (the ultimate lenders) and the consumers or businesses who borrowed money and used other services. Then, starting in the early 1990s, the banking value chain was gradually altered at both ends. (See Exhibit 2.) Bit by bit, banks relinquished their direct customer connections (and the resulting information flow) to a host of new, smaller businesses, including brokers, aggregators, and referrers. At the same time, banks began packaging their loans into securities and selling them to investors, who saw them as a new — and high-yield — asset class.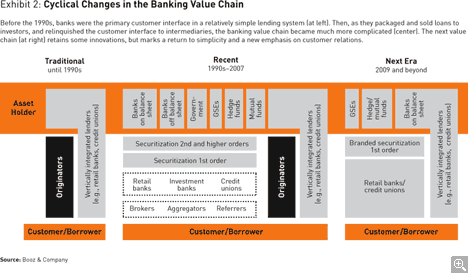 At the time, there were compelling reasons for fragmenting this value chain. Innovative financial products, which broke up securities into tranches ac­cording to risk and return, allowed investors to choose among levels of risk and be compensated accordingly, at least in theory. A new "originate-to-distribute" lending model, emerging in the 1990s, rewarded banks and their third-party originators for the volume, not the quality, of loans. At the same time, new accounting rules allowed "shadow" assets to be hidden off balance sheets. This further facilitated the shift from a long-term, balance-sheet-management approach focused on maximizing the return on assets to a short-term, earnings-driven ap­proach that maximized return on borrowed capital. With all these incentives in place, it should come as no surprise that many banks focused on reaching more borrowers, became less concerned about underlying asset quality, increased their financial leverage to unrealistic levels, and encouraged more intermediaries to join in selling more products.