"We had set ourselves certain goals," noted Tata Sons chairman Ratan N. Tata in a 2006 interview, "chief among which was to go global — not just to increase our turnover but also to go to places where we could create a meaningful presence [and] participate in the development of the country."
Past as Prologue
Like that of many long-running family businesses — Sainsbury, Toyota, and S.C. Johnson come to mind — Tata's culture can best be understood as a reflection of the founder's beliefs and ingenuity, honed through generations. J.N. Tata studied to be a priest in the Parsi religion (also known as Zoroastrianism), but pursued a commercial career because he believed he could do more for more people that way. As a fervent nationalist and entrepreneur, he sought to amass enough wealth and influence to elevate the Indian people and their communities, helping to prepare them for a struggle against British rule. Although he eschewed the priesthood, Tata remained loyal to the tenets of the sect. The bedrock of this tiny religion — there are only 23,000 Parsis in India and 100,000 worldwide — is the notion that a life well lived must dedicate itself to charity and justice.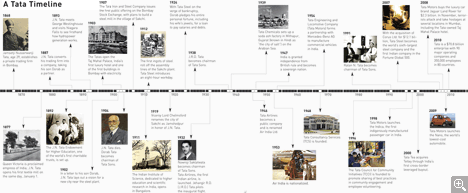 "The culture of the Tatas comes from decades of leadership that espouses a set of corporate values that is quite extraordinary for any company," says Tarun Khanna, the Jorge Paulo Lemann Professor at Harvard Business School and an expert on the company.
At age 29, J.N. Tata founded the Tata business as a small trading company. It prospered, and in 1877 he converted an old oil mill in Bombay (now Mumbai) into a textile factory and financed it with stock issued in India's first private placement. After making a small fortune in textiles, he developed a plan for his family's long-term role in India's future. Starting with industrial infrastructure, he designed and planned India's first domestic steel plant, to be located about 800 miles east of Mumbai. This meant taking on the racial prejudices and dismissive attitudes of the British colonial viceroys, whose approval was needed.
Then he moved on to expanding and improving education opportunities for Indians. In 1892, he created one of the world's first charitable trusts, the J.N. Tata Endowment for Higher Education. This scholarship program sent bright young Indians of limited means overseas for training in science, engineering, law, government administration, and medicine. One early grant recipient, a woman named Freny K.R. Cama, would go on to become India's first gynecologist. It was especially important to Tata that Indians be admitted to the civil service, which was closed to them under the British Empire; this would show that they were capable of governing themselves. By 1924, with some restrictions lifted by the British, one out of every five Indians in the civil service would be a J.N. Tata Scholar. (Today, the same scholarship is one of the most prestigious education awards in the country.)
In his final years, in a series of letters to his son Dorab, J.N. Tata laid out his vision for a new type of industrial community to be built near his steel factory (which was still under construction). He wanted widely available electric power; wide, tree-lined avenues; beautiful parks; and housing for workers that featured running water — then nearly unimaginable, and even today uncommon in India. Meanwhile, back in Bombay, he planned and built the Taj Mahal Palace, a hotel as luxurious as any of its European counterparts. A devotee of architecture and design, Tata chose the decor himself. On a trip to Paris, he picked out the wrought iron pillars that still stand in the hotel ballroom.