Although natural gas prices, just about $5 per MMBtu as of June 30, 2010, are still too low to generate consistent profits from many unconventional sources, it's likely that prices will rise in the coming years. The U.S. Energy Information Administration forecasts prices reaching upwards of $8 per MMBtu by 2020; the breakeven price for many unconventional wells is $4 to $7 per MMBtu. Stronger demand will drive higher prices: According to Booz & Company forecasts, demand should grow at an annual rate of approximately 2 to 3 percent globally through 2020 as the world economy improves, as gas-fired plants replace relatively dirty coal plants for power generation, and as new policy rules — such as the proposed energy bill in the U.S. — encourage and mandate increased use of natural gas for transportation. International cap and trade programs, which essentially put a price on carbon, would only accelerate this growth.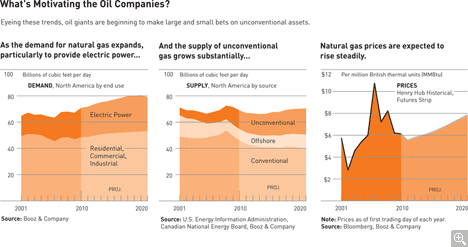 Indeed, the established oil companies have begun to take notice. Realizing that the future looks as though it will be flush with natural gas, the integrated giants know that they cannot afford to ignore unconventional reservoirs. For now, they have mostly invested in partnerships, which give them access to operating capabilities, land assets, or both. For example, BG Group recently entered a 50–50 joint venture with EXCO Resources, a Dallas-based independent, to develop EXCO's position in the Marcellus Shale in the Appalachian region of the United States. BP, Statoil, Eni, and Total have negotiated similar deals. But to truly profit from the natural gas boom over the long haul, the large oil companies are going to have to do more than merely engage in joint ventures, which inherently limit their potential gains to a percentage of royalties from gas production in a specific region.
In order to compete in unconventional assets, oil majors will have to embrace a dual operating model — in essence, pairing traditional operations with separate and more agile business units modeled after the independent gas firms, with flatter organizations, simpler governance structures, and an emphasis on efficiency and innovation. These attributes are necessary to reduce operating costs, as well as to allow the firms to quickly adapt new well designs, source local contractors and materials, and secure labor as needed.
An energy giant can attempt to gain these capabilities in two ways. The first is through acquisition. It can buy a natural gas company with the proven talents to exploit unconventional assets. ExxonMobil took this approach with its $41 billion purchase of XTO Energy in late 2009. But it's an open question whether large, brand-name companies have a high enough tolerance for the economic risks inherent in unconventional gas exploration, which puts a premium on drilling a large number of wells with uncertain prospects. It is also uncertain whether they can resist the temptation to impose the larger organization's more sclerotic and less entrepreneurial culture on the acquired business unit. Moreover, as BP's disastrous recent experience with the Deepwater Horizon well in the Gulf of Mexico demonstrates, the major's hefty balance sheets and brand value could be at risk if an accident were to occur on the unconventional business side. For all these reasons, as things stand now, the acquisition approach poses considerable challenges for the bigger energy firms.
The second option is to develop the natural gas expertise organically in-house, perhaps after gaining capabilities through a joint venture. Royal Dutch Shell was the first major oil company to attempt this, with its $4.7 billion acquisition of East Resources in May — and it's too early to tell whether Shell will be successful. In this deal, Shell purchased access to several hundred thousand acres in the Marcellus Shale reserves in Pennsylvania. And in a separate transaction that same day, Shell acquired 120,000 acres in south Texas. The company plans to transfer Shell's oil-field technologies and personnel skills into these unconventional gas plays.