Culture is back on the corporate agenda. As leaders deal with the demands of increased complexity — whether managing financial and environmental risk, navigating new markets, assimilating new types of technologies, or building a strategy for organic growth — many recognize the momentum that comes with a responsive, energized culture. That has led to a renewed appreciation for the work of Edgar H. Schein. Since the 1950s, when he studied the effects of Chinese brainwashing on American servicemen returning from the Korean War, he has been one of the world's leading authorities on the link between culture and behavior. For most of that time, he has been on the faculty of MIT's Sloan School of Management, where he is now a professor emeritus.
The strategy+business Collection: Don't Blame Your Culture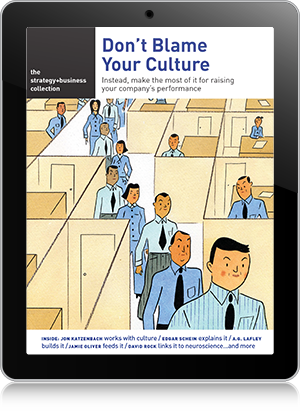 This article is featured in the strategy+business app "Don't Blame Your Culture," available for smartphone and tablet devices. The app pulls together s+b's best writing on organizational culture and change, featuring Jon Katzenbach, TV chef Jamie Oliver, former P&G CEO A.G. Lafley, and more, explaining why companies resist wholesale change, and how to make the most of the culture you have.
To download, select your device:
Schein's perspective, tempered by intensive work with groups, corporations, and governments, is one of deep respect for the power and legitimacy of ingrained assumptions and attitudes that people develop together gradually. (Among the organizations he has studied over time are Digital Equipment Corporation and the government of Singapore.) The Schein approach to changing a culture — and to developing better ways of helping others within organizations — is one of observation, inquiry, and leverage. This means observing the ways in which an organization's employees act; deducing (or inquiring about) the ways they think; and putting in place small behavioral changes that lead them, bit by bit, to think about things differently.
We met with Schein in his apartment in Cambridge, Mass., to talk about his two recent books for managers and corporate practitioners on this theme: The Corporate Culture Survival Guide (Jossey-Bass, 2009), an updated version of an earlier book, and Helping: How to Offer, Give, and Receive Help (Berrett-Koehler, 2009). Given Booz & Company's work on culture through the Katzenbach Center (see "Stop Blaming Your Culture," by Jon Katzenbach and Ashley Harshak, s+b, Spring 2011), we also thought it was timely to check in on the broadening impact of Schein's ideas as more and more companies seek to teach their old cultures new tricks.
S+B: Even the best-intentioned companies can get tripped up when trying to alter their organizational culture. Why?
SCHEIN: Because they think that to change culture, you simply introduce a new culture and tell people to follow it. That will never work. Instead, you have to conduct a business analysis around whatever is triggering your perceived need to change the culture. You solve that business problem by introducing new behaviors. Once you've solved your business problems this way, people will say to themselves, "Hey, this new way of doing things, which originally we were coerced to do, seems to be working better, so it must be right."
S+B: Issuing a new array of cultural tenets — like quality, agility, and accountability — will not work?
SCHEIN: Precisely. All you've done is stated the obvious, like "We're for motherhood." Who wouldn't be for those things? They're obvious. But what does it mean in that environment to be more agile or accountable? Someone has to say what these really mean: The next time you put a bad product out there, you get fired. It has to be concretized for real change to occur.