Every year, Booz & Company takes a long and penetrating look at CEO succession among the world's top 2,500 public companies. Our research now goes back consecutively to 2000, giving us 11 years of perspective on the tenure and position of these global business leaders. Each year we consider a new dimension in our study of CEO succession. This year, we looked at the role of the CEO and its effect on tenure and turnover. How hands-on are the CEO and his or her senior team? How do they engage themselves with the businesses they lead? We found that these factors have a noticeable effect. The more involved headquarters is in operational decision making in any given company, the more tenuous the CEO's tenure is likely to be.
We also found several noteworthy trends this year. There is a steep decline in CEO turnover worldwide: A higher proportion of chief executives are staying in office than we saw in 2009. (See Exhibit 1.) That doesn't mean that governance is growing more relaxed; the rates of CEO turnover are still much higher in general than they were in the 1990s, and the pressure on performance remains as great as ever. But it does suggest that some basic trends in CEO hiring and oversight have solidified as standard practice. Last year, we referred to the 2000s as a "decade of convergence and compression," and this pattern continued in 2010. Around the world, for example, fewer CEOs are also board chairmen this year than was the case the year before, and more CEOs are being appointed from inside companies, rather than from outside.
In one respect, however, the largest public companies are becoming more diverse: They are increasingly based in emerging economies, rather than in the mature economies of the United States, Canada, western Europe, and Japan. For years, in compiling our list of the 2,500 largest publicly held companies in the world (as ranked by their market capitalization), we have observed this gradual migration. (See Exhibit 2.) To explore the implications more closely this year, we divided our study sample over the past 11 years into mature and emerging economies (based on the United Nations' Human Development Index for 2010), and then further broke out the BRIC countries (Brazil, Russia, India, and China). We found that the share of companies from emerging markets in our sample has grown at a compound annual growth rate of 14 percent over the past 11 years; BRIC representation has shot up 24 percent annually. China, in particular, shows staggering growth, accounting for one in five new entries in our sample this year (83 of the 415 new members of the world's 2,500 largest companies).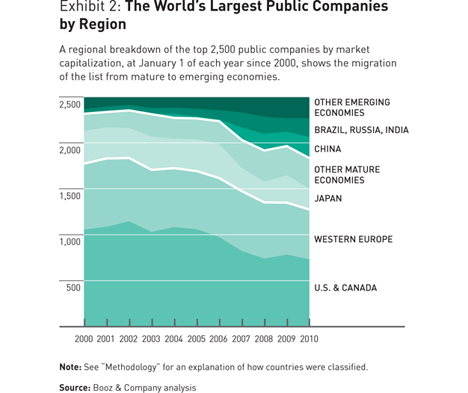 For those who see North America and western Europe as the commercial centers of the world, the news is even more striking; for the first time, almost half the companies on the list are located outside those two regions. In fact, the number of the top 2,500 companies based in the U.S., Canada, and western Europe has fallen some 28 percent altogether since 2000.
Finally, a significant milestone was reached in 2010: More than one-quarter of the top 2,500 public companies now have their headquarters in emerging economies. Could this suggest that global enterprise is nearing a geographic tipping point? Within a few years, if this pattern continues, the companies in the world's mature Western economies could represent a minority of our sample. Already, the Asian economies (China, Japan, rest of Asia) are the new center of gravity in terms of global market heft, with 895 companies in this year's sample versus North America's 772 companies and Europe's 619 companies.