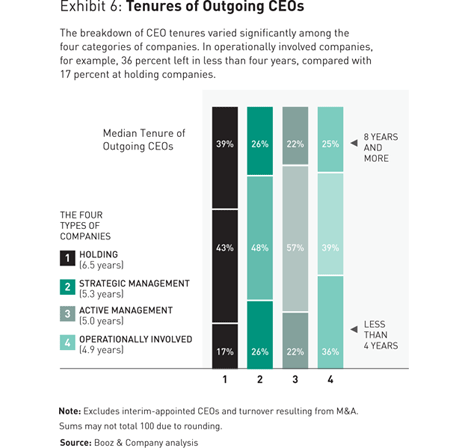 This departure rate at operationally involved companies was particularly high for outsider CEOs — those who were hired from another company. Outsiders are generally more pressured; in all categories except holding companies (in which only one outsider CEO left in 2010, a chief executive who had lasted for a statistically anomalous 17 years), they stayed in office for less time on average than their insider counterparts. Outsiders at Model 4 companies had the shortest tenure of all: on average, only 3.3 years in office. (See Exhibit 7.)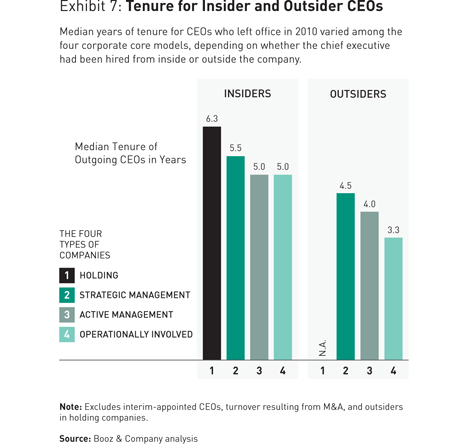 Why was CEO turnover higher in Model 4 companies? It wasn't because of inexperience: The proportion of Model 4 outgoing CEOs who had prior CEO experience was higher than in any other model group. Nor was it a matter of a lack of coaching or support. The apprentice CEO model is more prevalent at operationally involved companies than at holding companies (38 percent as compared with 32 percent), and Model 4 headquarters organizations are much larger, as a rule. However, CEOs in Model 4 companies face some particular challenges:
1. Operationally involved companies are more likely to be acquired. M&A successions are most common among Model 4 firms (in 2010, they represented 52 percent of non-planned turnover, versus 40 percent at Model 1 companies and 26 percent at Model 2 companies). Because Model 4 companies typically focus on a single industry or business, they are often attractive targets for acquisition. And although Model 1 and 2 companies may engage in M&A activity more frequently, they typically buy and sell subsidiary units, not whole companies, so the CEO position is usually not affected.
2. Operationally involved CEOs more often succumb to board and power struggles. These struggles accounted for 57 percent of the forced (non-planned and non-M&A) turnover at Model 4 companies in 2010. By contrast, in Model 2 companies, poor financial or managerial performance was the main driver of forced succession. (See Exhibit 8.) In a single-line or closely related set of businesses, it is easier for the board to apply strict scrutiny to a CEO's strategy, and power struggles with other knowledgeable insiders are more likely.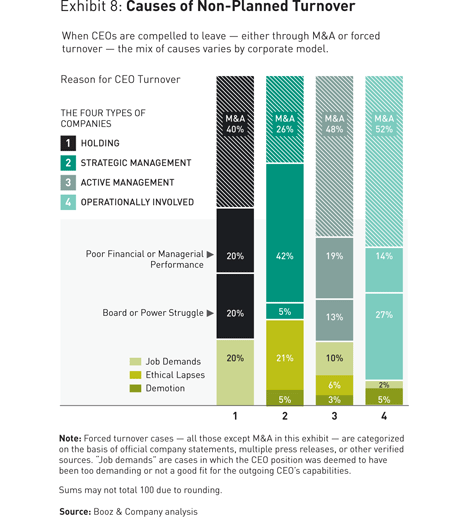 3. Operationally involved and active management CEOs are more likely to also hold the chairman title. This is twice as likely, on average, as it is in the other two models. Overall, only one in 10 CEOs has this dual role, but the more involved the corporate core is in the business operations, the more likely the double role is to appear. (See Exhibit 9.) The correlation between actively engaged corporate cores and "double-hatted" CEO/chairmen is particularly strong in Europe.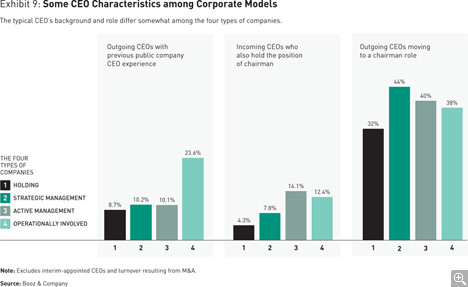 At first glance, this correlation seems puzzling. Double-hatted CEOs are subject to immense job demands in any company; they run both the board — which is charged with scrutinizing their strategy — and the business. In Model 3 and Model 4 companies, their roles would be even more demanding. One may surmise that this trend is either an anomaly (in which case we will probably see it diminish in future years) or a sign that some boards still believe that a single leader accountable for the entire company provides the most effective form of governance.
Advice for the New CEO
Few CEOs would interpret these findings as a suggestion to adopt the holding company model. After all, most companies have developed their corporate core structure over time, to match their unique portfolio of businesses and their competitive strategy. No one model is inherently better than another, and it is neither practical nor desirable to move your corporate model away from what the business requires.
However, if you are the CEO in a Model 4 company, you should recognize the especially demanding nature of this job. It requires hands-on management and greater accountability, and your exposure to disruption is therefore higher. More than one-third of operationally involved CEOs are replaced within four years; indeed, your role may involve quietly building value to become an acquisition target. Model 4 boards tend to be more informed and engaged in monitoring strategy, and the competition for the chief executive position can be more intense — there are often several candidates well versed in the business vying for the position. These challenges will be all the more formidable if you are hired from outside.