Where does private equity go from here?
Now that the business has bounced off its lows of 2008 and 2009, it seems like the right time to ask that question. Looking at the strategic shifts that the biggest private equity (PE) firms have been making since early 2010, it's clear that they are searching for an answer.
There is the shift in the way fund raising is being handled, especially at a time when many of the limited partners who invest in private equity firms have "maxed out" their PE allocations — and the few who haven't are being courted by every major firm. There is the shift toward public ownership of the PE firms, led by Blackstone, KKR, and, most recently, Apollo Management. And there is the firms' shift toward diversifying revenues away from their core business, the leveraged buyout (LBO), with many firms getting into credit investing, real estate, advisory services, proprietary trading, and other areas. (See Exhibit 1.) As Stephen Murray, the chief executive of CCMP Capital Advisors, put it, "The LBO business has become just another asset class for many firms."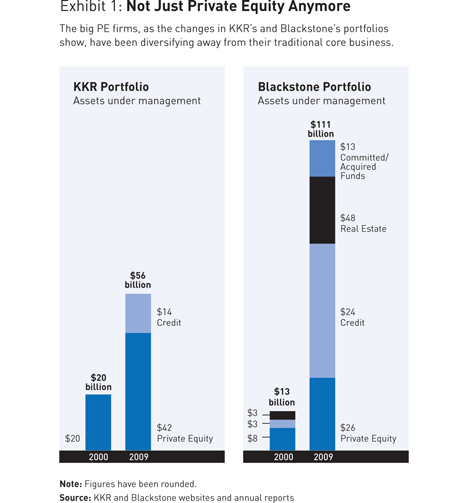 What's more, private equity firms are going through this process of reinvention at a time when they're facing plenty of other issues: bad press about fees, bad press about the practice of secondary buyouts (in which one PE firm sells a portfolio company to another PE firm rather than to investors via an initial public offering or to a corporation), turnover among limited partners, and the question of succession planning at the biggest firms (where at least some of the founders are getting on in years, and their peers are wondering how long they will stay in the game).
All these things are distractions, however. The real issue for private equity is whether — and how — the general partners who manage PE firms can revitalize the leveraged buyout.
The reality is that buyout returns are down — notwithstanding the occasional home run, like KKR and Bain Capital's US$3.8 billion IPO of hospital operator HCA in March and the Carlyle Group and Goldman Sachs's $2.9 billion IPO of Kinder Morgan in February. (See Exhibit 2.) For a long time, the top tier of LBO firms were returning in excess of 20 percent, but much of that was attributable to the exuberant public markets that prevailed in the 20 years leading up to 2008. Cheap debt helped too, allowing firms to do things like dividend recapitalizations (after which they were, essentially, playing with house money). Those days are gone, and PE executives don't expect them to return soon, if ever. "You cannot just bet on interest returns and multiples going up," says Gilbert Saada, an executive at Eurazeo, a mid-market private equity firm in Paris. "It doesn't work anymore."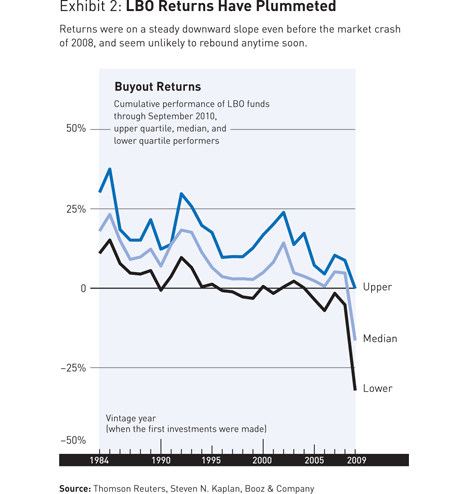 Having been forced to write down the value of many of their portfolio companies in recent years, the general partners of private equity firms have taken steps to implement cost savings across those companies. In some cases they have used the same tactics that corporations use to drive down costs during a downturn, such as centralized sourcing and the replacement of people with technology.
These improvements, however, aren't sufficient to salvage investments that may be deeply underwater. Nor are they enough to restore the LBO to its former position as a driver of superior returns. Instead, PE firms need to find a new approach to creating value, much as they did at previous stages of their evolution — such as in the 1980s, when private equity began to harness the power of financial engineering, and in the 1990s, when PE firms mastered the art of driving operational enhancement at their portfolio companies. Today, all the best firms are highly skilled at financial and operational value creation, and these are thus no longer ways to outperform one's rivals. A third wave of innovation in private equity's value creation model is needed, and we believe it will be "organic growth enhancement," or the ability to systematically increase the top line of portfolio companies organically. This will require adding new capabilities at the PE firms themselves, rebalancing their engagement with portfolio companies toward organic growth, and making organic growth "net free" (meaning that it's funded out of each portfolio company's own current costs and investment, with no hit to the firm's short-term earnings). (See Exhibit 3.)