Shopping in the delicatessen aisle of Tesco's hypermarket in Warsaw is a strikingly Polish experience. Eight barrels of pickles stand at the end of one row. Dozens of types of salami and sausages are on display behind the glass. It's not the sort of fare you'd find on the outskirts of London, where the multinational retailer is headquartered, or in any shop in the U.K., where Tesco PLC has been serving British consumers since the 1920s. Rather, Tesco in Warsaw is catering to local tastes. "Deli foods are very important to us," says an elderly Polish shopper appreciatively. "This is what we want."
And local flavor is what Tesco aims to deliver, especially in emerging markets from Eastern Europe to Asia. "We know shoppers in Hungary and Thailand want products tailored to the local market," CEO Terry Leahy says. Mr. Leahy, who joined the retailer as a marketing executive 23 years ago, has increased Tesco's sales 50 percent in the four years since he became CEO. He has done so by reviving core domestic sales and by aggressively expanding internationally. At home, Tesco has grown non-food retailing, introduced house brands for value-conscious and more indulgent shoppers, and focused on customer service. The cornerstone of its international strategy is exporting culturally customized versions of its marketing formula for hypermarkets, the popular department store–supermarket combination that sells massive amounts of food and household goods in a single store.
So far, the strategy has been a winner. In April 2001, the company announced it had broken through the £1 billion ($1.4 billion) mark in annual profits. Only one British retailer, Marks & Spencer PLC, has ever accomplished that, and only for a brief interlude from 1997 to 1998. Last year, when other U.K. retailers treaded water, Tesco's earnings per share rose 11 percent.
On solid ground at home, Mr. Leahy recently set a goal for Tesco to have more physical selling space outside Great Britain than inside by 2003. About 37 percent of the company's physical floor space is located overseas, as the company moves toward that goal. In FY2001, non-U.K. sales reached £3 billion ($4.4 billion).
Tesco is not alone in its mission to conquer the world. Many of the big-name retailers, including the U.S.'s Wal-Mart Stores Inc., France's Carrefour SA, and the Netherlands' Royal Ahold NV, are also expanding into foreign markets worldwide. (See Exhibit 1.) But globalization is uncharted territory for retailers who have built their reputations and market share at home. Although the world has grown accustomed to the omnipresence of global brands like McDonald's, Volkswagen, and Coke, retailers — particularly those that cater to daily household needs — have been slow to reach out to consumers outside their own country. "Retailing is still a very local business around the world," says Allan Breese, international account director for Europanel, a firm that provides marketing information services based on consumer panels. "Globalization hasn't really happened, especially in the food side of the business, the way it has in other industries."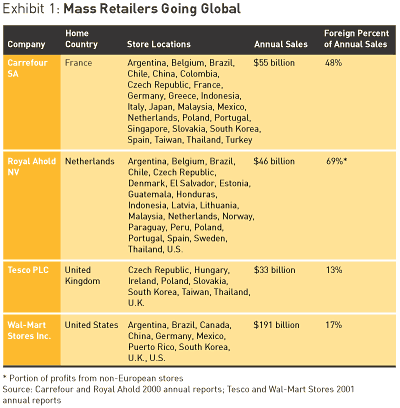 Why are retailers moving overseas now? Mostly because domestic growth is limited. It took decades for stores to evolve from the classic mom-and-pop formula to superstore enterprises with a national reach. When there was plenty of room for expansion in the United States, Wal-Mart, for example, saw little reason to go abroad. Even now, its global push is tentative for a company of its size. The group is in only nine foreign countries, and still makes about 85 percent of its profits from American sales.
Yet if retailers restrict themselves to their domestic markets, they resign themselves to operating as mature businesses in mature markets. This is especially true for Tesco today, which has reached 25 percent market share — close to market saturation — in U.K. food retailing, according to Mr. Breese. "Tesco went abroad because it had to," he says. "The company moved into other areas, like clothing sales and Internet shopping. But that is unlikely to give it the kind of growth shareholders clamored for."