Digital native retailers are giving physical stores a radical makeover
Online brands are opening brick-and-mortar shops, using technology and data-driven customer insights to transform the in-store experience.
On Black Friday in 2018, online spending in the U.S. leapt 24 percent from the previous year. By contrast, in-store sales fell by 7 percent and footfall was down 9 percent. These numbers might give the impression that brick-and-mortar stores are losing relevance with consumers, but several successful online-only retailers are actually opening physical shops — and traditional brands can learn from them by looking at why and how they're doing it.
There are many reasons for online-first retailers to add an offline presence. For one thing, physical retail still accounts for about 85 percent of global business-to-consumer commerce. And although digital retail is growing, so is in-store retail. PwC's 2019 Global Consumer Insights Study — to be released soon — shows that 24 percent of consumers regularly used mobile to shop in 2018, compared with 11 percent in 2014, and 49 percent regularly shopped in a physical store in 2018, versus 36 percent in 2014. Stores allow consumers to experience and engage with a brand, its products, and its culture. Buying in a store is also sometimes faster and more convenient than online shopping. And new technologies enable retailers to gather insights from in-store video and audio data in ways that have never before been possible. Finally, physical stores provide online retailers with local distribution centers for their products.
Digital natives apply their pioneering spirit to the physical world, using their inherent data-led knowledge of customer behavior and their comfort with technology to rethink and remake the experience shoppers have in their stores. And they're showing the way forward for some of the savviest older retailers and brands. Here are some of the lessons bricks-first retailers are picking up from their digital-first peers.
Create a frictionless store. Online retailers have to focus on user experience and customer journeys to succeed. Shoppers are easily distracted from an online purchase by the ping of an arriving email or a flurry of social media likes. Each click away from the page could cause them to ditch their carts, so e-commerce strives to be as frictionless and engaging as possible.
And now, some online retailers are applying the same thinking to physical stores. Amazon Go grocery stores, for example, have resolved a major pain point: the checkout. Instead of paying traditionally, customers scan their Amazon Go app as they enter, their purchases are recorded by sensors throughout the store that are supported by artificial intelligence (AI) and radio-frequency identification (RFID), and their accounts are automatically charged when they leave.
Amazon is considering placing Go stores in the lobbies of office buildings and in airports. This fits with a growing trend for "microtrip" shopping, or short trips that take less than five minutes. According to PwC's study, one-quarter of consumers make trips like these once or more per day.
Another point of friction for customers is not knowing whether the items they need will be in stock at a physical store. Canadian online fashion retailer Ssense has solved this problem. Its shoppers can browse 20,000 products online, and the ones they'd like to try on are then shipped from warehouse to store within an hour.
Use data to add a personal touch. Digital-native retailers are data-centric, and as a result have been able to disrupt brick-and-mortar shopping by being better at predicting customer needs and wants. In some cases, their insights reveal that customers want to see and use products in real life.
Online mattress retailer Casper announced last summer that it would open 200 stores across the U.S., after finding that sales grew more quickly in areas where it had operated temporary stores. A physical presence in a busy location can be a powerful marketing tool, too. Casper CEO Philip Krim told the Wall Street Journal the company's stores make the brand visible, which is helpful because acquiring customers online has become more competitive and expensive.
Traditional retailers are also using data to get to know their customers better. Nike, for example, has spent a decade building its NikePlus membership program. It now has data not only on its members' tastes in clothes and shoes but also on their exercise habits. It uses that data to curate stock at its Nike Live concept store in Los Angeles, and to offer personalized advice to ensure members have the best kit for their fitness goals.
The lessons from the Nike Live store have been used at the company's New York flagship, where the "Speed Shop" department stocks merchandise based on online sales in the store's postal code. And getting back to the frictionless experiences mentioned earlier, customers can also reserve the shoes they want using the Nike app and then collect them from an in-store locker, opened by the same app. They can pay for the merchandise in the app, too.
Data and technology are the connective tissue underlying the creation of rich, informative in-store experiences.
Stores are also using data on customers' physical locations to enhance experiences. For instance, Nordstrom has experimented with a customer-tracking app that notifies staff as each person arrives, arming the sales team in advance with information about that shopper's buying habits. For some people, this is delightful and convenient, but for others it's intrusive and unwelcome, so data analytics is helping companies determine which customers are which, too. Of course, for these location- and habit-tracking features to work, people will have to trust retailers with their personal information — and that will be a big hurdle to overcome.
Make shopping fun. Personalization can help turn offline retail into a rich experience that consumers will seek out. And technology can enable even more ways to make shopping entertaining.
For example, French beauty brand Sephora is using augmented reality to allow customers to test makeup virtually. London fashion store Missguided's expansion offline involved creating a flagship store inspired by a TV studio, with huge screens that stream customer-generated social media content.
The New York City location of fashion retailer Rebecca Minkoff has interactive mirrors in the dressing rooms so customers can order a different color or size with a few taps. They can also customize the lighting so it matches the environment in which they will wear the outfit.
Track different things better. Retailers have traditionally measured success by sales per square foot, and based on that formula, numerous chains have closed branches because of diminishing results. But now that people no longer have to rely on stores as the sole way to access products, this gauge of productivity looks dated.
Last year, Adobe Labs showed off new technology for tracking shoppers through a store in real time, drawing information from in-store beacons, smart shopping carts, Internet of Things sensors, and a mobile app. This technology would allow retailers to direct offers to customers about certain products even as they're looking at them.
As these various examples show, data and technology are the connective tissue underlying the creation of rich, informative in-store experiences. Digital natives already know the value of understanding and using these tools, and it's time for brick-and-mortar retailers to catch up. Using already-available digital approaches to capture the rich stream of information on consumers' in-store and online behavior will turn traditional companies into data-driven organizations with an obsessive customer focus.
Author profiles:
Flavio Palaci is PwC's global advisory data and analytics leader. Based in Sydney, he is a partner with PwC Australia.
Ramy Sedra is PwC Canada's data and analytics consulting leader. Based in Montreal, he is a partner with PwC Canada.
Anand Rao is PwC's global and U.S. artificial intelligence leader and U.S. data and analytics leader. Based in Boston, he is a principal with PwC US.
Recommended stories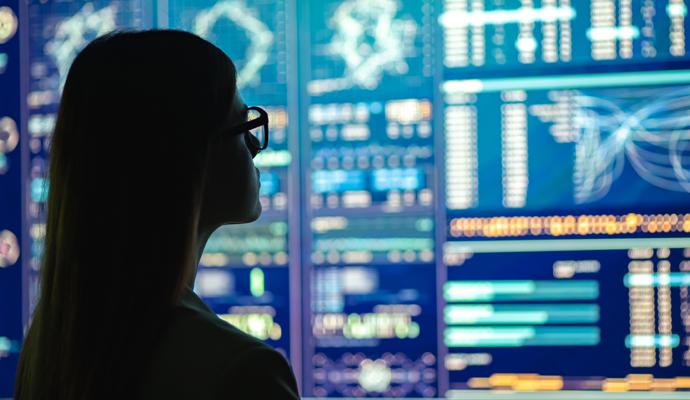 In PwC's second Chief Data Officer Study, we found more chief data officers appointed by the world's leading companies—and evidence they're having a positive impact on financial performance.