Aside from Philip Morris, the good-to-great qualifiers tend to be nondescript, even dowdy companies, in unglamorous industries. "I take a lot of hope from our study," Mr. Collins says. "If Walgreens can move from mediocrity to greatness, then anyone can." Indeed, Walgreen Company's stock outperformed the market by a factor of seven to one during its growth years (1975 to 1990), beating corporate headliners like the Intel Corporation, Coca-Cola, and General Electric Company as well. (See Exhibit 1.) If you add in the results from 1990 to 2000, then Walgreens has outperformed the market by 15 to one since its transition — again, easily surpassing Intel, Coca-Cola, and GE.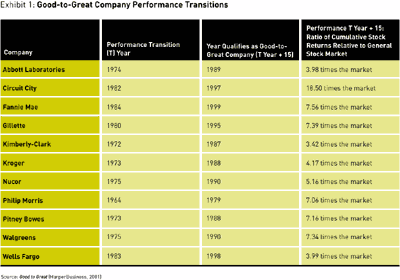 Unlike Built to Last, which was, in effect, underwritten by the faculty positions that Mr. Collins and Professor Porras held at Stanford, Good to Great was independently researched and written. Mr. Collins held no faculty appointment, eschewed a publisher's advance, and rejected the popular punditry financing scheme of taking consulting jobs and then writing up the results. Instead, he spent $750,000 of his money to fund his own research lab in Boulder, Colo., in his childhood neighborhood. He rented space in his former elementary school, now converted into an office building; the conference room with his grandfather's photograph was his first-grade classroom.
Then he assembled an intrepid group of collaborative young graduate students from the University of Colorado for five years of in-depth investigation. Together, the team identified seven key factors that form the heart of the analysis, of which Level 5 Leadership is only one. The others include:
• First Who … Then What. Good-to-great companies assemble a key team before setting strategy: "It is better to first get the right people on the bus, the wrong people off the bus, and the right people in the right seats, and then figure out where to drive," writes Mr. Collins.
• The Stockdale Paradox. Companies zoom past their competitors when they, like former Vietnam prisoner of war Admiral James Stockdale, combine an unswerving faith in long-term success with the discipline to confront the most brutal facts about their current situation.
• A Culture of Discipline. Companies that combine a culture of high personal discipline with high individual autonomy and entrepreneurial behavior produce the best results.
• Technology Accelerators. Good-to-great companies are technologically savvy but never technologically driven; they always use technology as a means to an end. For example, they weren't the first to set up Web sites, but when they did, the sites were simple and practical.
• The Flywheel. Lasting transformations occur through a process in which changes, both small and large, build upon one another, like the momentum that results from the steady turning of a giant flywheel. This is far more effective than relying on a single event or motivational program.
• The Hedgehog Concept. The ancient Greek poet Archilochus wrote, "The fox knows many things, but the hedgehog knows one big thing." Companies succeed when they focus on one big purpose above all else, with three big components: becoming the best in the world at what they do; doing work about which people are passionate; and articulating a solid rationale for making money over the long haul. The rationale, in turn, is generally based on one key, carefully chosen business ratio. For instance, Fannie Mae focused not on profit per mortgage, but on profit-per-mortgage risk level; the Nucor Corporation on profit per ton of steel; Wells Fargo & Company on profit per employee; Circuit City Stores Inc. on profit per store; Kroger Company on profit per local population around each store; and Walgreens on profit per customer visit.