Then there is the special case of Philip Morris. Mr. Collins himself is ambivalent about a company that is both an ardent marketer of cigarettes and a longtime and generous supporter of community services and the arts. "My father died of bladder cancer, which was very likely linked to smoking. So I can't like Philip Morris. But it made the clinical selection in both books."
Although Philip Morris's good works and nontobacco consumer brands have become an increasingly visible part of its marketing, it can't avoid controversy associated with its tobacco business. Coincidentally, just as Good to Great was poised to applaud Philip Morris, news broke about a report the company commissioned arguing that cigarette consumption would not be a drain on the Czech economy so long as the government could save on medical and housing costs for people dying prematurely of cancer and other tobacco-related diseases.
Unquestionably, good-to-great management practices are embedded deeply in the company's culture, including the virtuous qualities of Level 5 Leadership. "One of the worst tags you could get [here] is to be a self-promoter," said Philip Morris Senior Vice President of Corporate Affairs Steve Parrish in an interview recently. "Our chairman, Geoff Bible, comes across as a very shy, low-profile guy. His attitude [on matters of public affairs] is often, 'Gee, why would anybody want to hear from me about that?' "
And there is also a fairly strong version of the Stockdale Paradox at play, including the resolve to never give up, no matter how strong the opposition. According to members of the good-to-great team, Philip Morris executives who were interviewed spoke of having a "Masada complex," after the community of Jewish zealots who resisted a Roman siege for years and chose suicide rather than capture and assimilation at the end.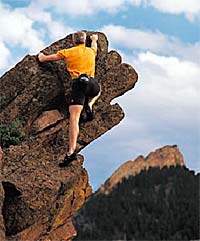 Quite possibly, these forms of stoic resolve, and even its deferential Level 5–like public manner, contribute to Philip Morris's reputation for intransigence. Ultimately, the presence of Philip Morris in the book could reveal the unintended problems of a good-to-great corporate style. Could the same qualities that lead to financial success — the stoic, disciplined, understated, and insular (First Who … Then What) approach to life — also make executives in these companies, no matter how well-intentioned they are, less sensitive to ethical issues and more impervious to the outside world?
On the other hand, perhaps a Level 5 Leader can pursue, in an unassuming flywheel-like fashion, virtuous corporate goals and their own goals for personal growth. And the more Level 5 Leaders there are in a company, the better the chances this positive momentum will build. Indeed, Mr. Collins's greatest contribution may have been to articulate a developmental path for successful business practice that brings out the Level 5 in each of us, even if we don't have the example of a test-pilot grandfather to contemplate.
"How do you get to be Level 5?" Mr. Collins mused recently. "I don't know if it can be learned. I think of the climbers I know, and how they respond under pressure. Part of that can be learned by putting yourself under pressure, and some of it is just innate. We still don't know as much about leading a great company as we need to know. Come back and ask me in 10 years."

Reprint No. 01405
Authors
---
Art Kleiner,

[email protected] is the "Culture & Change" columnist and a regular contributor of "The Creative Mind" profiles for strategy+business. He teaches at New York University's Interactive Telecommunications Program. His Web site is www.well.com/user/art. Mr. Kleiner is the author of The Age of Heretics (Doubleday, 1996); his next book, Who Really Matters: The Core Group Theory of Power, Privilege, and Business Success, will be published by Doubleday Currency in August 2003.