They found that good-to-great companies had leaders who combined a self-effacing humility with a fierce professional will to succeed rather than larger-than-life celebrity leaders, a feature of the comparison groups. In the good-to-great companies, these leaders first assembled a team of disciplined people and then, through disciplined thought and action, decided what should be done (as well as what they should stop doing) and how to do it (or stop it). "Who" came before "what" or "how." The good-to-great group did not spend more time strategizing than did the others (all the firms had well-defined strategies), and they paid scant attention to managing change, motivating people, or creating alignment. With the right people, these issues seemed to just melt away.
A central finding of the study is that the good-to-great firms disciplined their thought with what Collins calls a Hedgehog Concept, named after writings by the Greek poet Archilochus about the hedgehog, who knows one big thing (as opposed to the fox, who knows many small things.) A Hedgehog Concept is a deep understanding that flows from the intersection of three circles:
1. What you can (and cannot) be the best in the world at
2. What drives your economic engine
3. What you care passionately about
Collins suggests that this understanding is not a one-time achievement, but an evolving product of an iterative process best conducted in leadership councils of the right people, who engage in dialogue and debate guided by the three factors.
Unsuspected Strategies
Iterative processes, discipline, and focus are also central features in The Strategy-Focused Organization: How Balanced Scorecard Companies Thrive in the New Business Environment (2001), the latest in the Balanced Scorecard (BSC) series of books from Harvard Business School Professor Robert S. Kaplan and consultant David P. Norton. The Balanced Scorecard began its life as an attempt to help corporations escape the short-term tyranny of financial measurement. It has now expanded into a strategic management system. "We do not claim to have made a science of strategy," write the authors. "The formulation of strategy is an art and will always remain so. The description of strategy, however, should not be an art" (authors' emphasis). The authors may be too modest, however, for it's clear that when vision and strategy are communicated so that people throughout a firm can grasp them, it creates a favorable context that often leads to the emergence of new and unsuspected strategies. And, as we shall see, those contexts can be constructed systematically.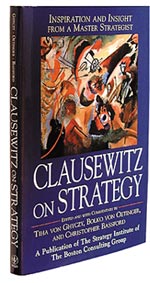 Kaplan and Norton describe in detail how organizations in both the private and the public sectors have used the BSC to translate strategy into operational terms, align the organization with it, make strategy everyone's everyday job, turn strategy into a continual process, and mobilize change through executive leadership. The authors' criteria for success are far less stringent than those in Good to Great, but their list of firms is impressive (Fannie Mae is the only organization that appears in both books), and the stories are compelling. It's refreshing to find a chapter on the pitfalls of introducing the Balanced Scorecard technique, supported by cases of where and how it went wrong. An obvious danger is that a BSC project can degenerate into a bureaucratic form-filling exercise, a fate experienced by so many management-by-objectives programs.
The authors were at first surprised to learn that two of their most successful adopters were ex-Marine officers, considering that the military are often stereotyped as command-and-control freaks. But the best soldiers, like the most effective managers, understand that the purpose of measurement is not control over others but communication that leads to a decentralized self-control focused on a common cause — the implementation and, where necessary, the modification of strategy.