One could continue in this vein through the 20th century. Some outstanding novels containing businesspeople who spill over with an abundance of ambition: Sinclair Lewis's Babbitt (1922); Upton Sinclair's Oil! (1927); Christina Stead's House of All Nations (1938); Frederic Wakeman's The Hucksters (1946); Sloan Wilson's The Man in the Gray Flannel Suit (1955); John Braine's Room at the Top (1957); and Louis Auchincloss's The Embezzler (1966). These writers might have been making larger statements about avarice, conformity, social class, boosterism, the rat race, yes-men, and so on, but their businesspeople are not straw men or cartoon characters; even Babbitt is portrayed with warmth and psychological acuity.
The Proper Stuff
Gradually, though, as the century progressed, the fecund field of business fiction was all but abandoned by serious novelists. In fact, the problem in the last 25 years is not one of novelistic "bad press" but hardly any press at all. To be sure, there have been a number of satires, some of them brilliant, that fall under the business-novel rubric: Martin Amis's Money: A Suicide Note (1984); Tom Wolfe's The Bonfire of the Vanities (1987) and A Man in Full (1998); David Lodge's Nice Work (1988); Bill Morris's Biography of a Buick (1992); Po Bronson's Bombardiers (1995); Douglas Coupland's Microserfs (1995); Julian Barnes's England, England (1998); and Kurt Andersen's Turn of the Century (1999). Nothing wrong with satire, but when it gets too broad, too silly, played only for yuks, it loses resonance. If we set aside these works, sober fictional treatments of business, such as Philip Roth's American Pastoral (1997) and Richard Powers's Gain (1998), are scarcer than Republicans who are proregulation.
Why has this genre all but dried up? First, around the turn of the previous century, aesthetic tastes in fiction began to change, which was best illustrated by a long-running argument between H.G. Wells and Henry James over what constituted "the proper stuff" of novels: Wells championed discursive novels about the larger world, and James, "the intensified rendering of feeling and characterization." Wells, commenting on Tono-Bungay, said that it was "extensive not intensive. That is to say, it presented characters only as part of a scene." James won, you might say. As did Virginia Woolf. She labeled Wells a "materialist," concerned with "the body and not the spirit": "…the sooner English fiction turns its back upon [the materialists] and marches, if only into the desert, the better for its soul." Legions of novelists obeyed her call — and James's call — and marched into the desert. They rejected "scene" and focused instead on dysfunctional families, psychological malaise, affairs of the heart, eccentricity, freaks.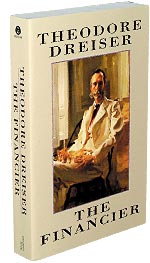 Compounding the situation, universities in the latter part of the century discovered the profit in teaching creative writing. Droves of budding novelists still head for these writing schools, and then turn to teaching to support themselves until the lucky day when they have a breakthrough book; their familiarity with the wider world and the means of production is necessarily limited. This is an altogether different path from that taken by earlier generations of novelists, who learned trades, entered professions, took to the road or the sea, became journalists or magazine editors. For example, Trollope was a post-office administrator; Wells, a draper's apprentice and then a science teacher. To revive business fiction, the dictum "write about what you know" should perhaps be amended to "get out into the world and then write about what you know."
The interest in stories about business hasn't disappeared. If anything, it has increased, with nonfiction writers using fiction-writing techniques stepping into the breach. Business is now "covered" by magazine and newspaper writers like Connie Bruck, Michael Lewis, Joseph Nocera, Ken Auletta, and Roger Lowenstein. As good as these journalists are, their books about Wall Street and Silicon Valley are no substitute for unflinching works of fiction that engage our public and private selves, our intellect and emotions. More able to inhabit the skins of its characters, fiction can capture the ambiguity and caprice inherent in human behavior and then give it context and causality in ways that nonfiction rarely can. As Norman Mailer is fond of saying, "A novel is a big lie to get at the big truth."