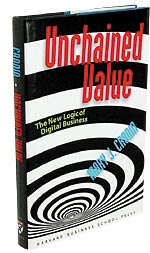 If there's a fundamental critique to many of these New Economy books, it's the precept that there ever really was such a thing as a "new" economy between 1994 and 2000. More realistically, there was a complex financial Ponzi scheme, the U.S. version of the schemes that brought Albania and Russia to their knees in the early 1990s. Whereas tricksters in those countries willfully defrauded the public by promising astronomical rates of returns on deposits while embezzling the deposited funds, Internet IPOs were more rational. After all, these IPOs had been filtered through the hands of seasoned investors, starting with venture-capital funds, ending with blue-chip investment banks. If these people put their money into TheGlobe.com, why shouldn't you?
Implicit in the New Economy was the idea that no one over the age of 30 could understand the Internet, and that the economic precepts that had guided finance were no longer valid. There were new rules, and just because an investor didn't understand them didn't mean he shouldn't invest in Internet-related companies.
As the house of cards collapsed in 2000, leaving persistent rumblings that the U.S. Attorney's office in the Southern District of Manhattan was preparing to let loose a hard rain of indictments on some of the best-known investment banks on Wall Street for collusion and price fixing between analysts and underwriters, publishers disgorged one last flow of New Economy books to bookstores across America. It's no wonder they haven't sold.
In general, the majority suffer from a single flaw — analysis by analogy. Because there's so little quantitative information on the New Economy, so little evidence of successful companies, writers are often left to string together case studies: first-person descriptions of working at somedotcom.com and how the under-30 management relates to their over-30 colleagues.
Better Takeaways
So, which, if any, New Economy books are worth buying? We could dissect the bad, but it's more relevant to examine the good, and at least two books stand out as taking a more rigorous approach than many.
Unchained Value: The New Logic of Digital Business (2000), by Mary J. Cronin, is one. Cronin, a professor of management at Boston College, breaks out the "new value system" of the "digital economy" into a set of discernible processes that are still valid today. According to her model, the New Economy is really a new value chain grounded in information management and relationships with vendors and customers. Cronin's central thesis is that monolithic, centralized enterprise resource planning (ERP) systems are giving way to disaggregated, modular information systems, with aspects of the information flow controlled by various players (both competitors and partners) that all have to share information to maximize the value of the network.
Where her thesis gets wobbly, in hindsight, is the conclusion that this will level the playing field between large and small corporations. Where once large corporations enjoyed an economy of scale from their IT infrastructure, Cronin writes, this "is well on the way to being commoditized as high-powered vertical marketplaces provide end-to-end online trading, distribution, and supply chain management services that are open to all." The prime example she cites of this phenomenon is a company called OpenSite Technologies, which was acquired by Siebel Systems Inc. in May 2000 for $542 million in Siebel stock. Siebel's primary line of business is selling ERP software, albeit software that now runs on Web servers as opposed to mainframes.
The open, dynamic trading networks forecast in Unchained Value are looking more and more like the old model of ERP systems, with companies making tremendous capital expenditures expecting to get proprietary information, thereby increasing their competitiveness and raising barriers to entry against new players. With this in mind, it's hardly worthwhile to study Cronin's rules for launching a "digital value system," when the rules for networked systems are the same ones that shaped ERP in the 1980s. Just because enterprise data is in XML (the flexible computer language used to create common information formats and enable sharing of both the format and the data using Internet technology), as opposed to an arcane COBOL format, doesn't mean it's open to the world. It just means it's easier to import and export information. Whether one chooses to make a system open, regardless of the standard it's coded in, is a business issue, and it seems that, by and large, closed COBOL systems have merely been replaced by closed XML systems.