Not unique to Corning, however, was the issue of how to drive this change in the absence of a crisis situation. Ken Freeman, who was executive vice president for administration in 1994, put the problem this way: "We're trying to halt slow erosion, so it is hard for everyone to see the need for change." But change they did. Today there is a broad awareness of the need to manage costs and a renewed sense of urgency among the work force. Teams focus on continually improving process efficiency and effectiveness, and span the businesses identifying and communicating best practices. Says Norm Garrity, president of Corning Technologies, "As a result of the process, we move more quickly--today it is a different ballgame." While cultural change requires an ongoing focus, the Competes process greatly accelerated the institutionalization of new behaviors across the organization.
This change did not come easily, however. "You learn to get used to the things that constrain you--you just live with it," noted Bob Hoover, who was corporate director of manufacturing improvement in 1995. "This was our chance to change that behavior."
Early in the Competes process, management recognized that effective communication was essential for driving cultural change. Going after the hearts and minds of Corning's vital constituencies--employees, suppliers and customers--involved everything from town meetings and monthly Corning Competes bulletins to focus groups, surveys and the establishment of a 1-800 line. The goal of this communications process was to reach every employee on a regular basis with a consistent message. There was a focus on building in a feedback loop, so employees could express issues and anxieties about the process. This resulted in "Headlines in a Hurry," an electronic message center that responded to employee questions, typically within 72 hours. Senior management was heavily involved throughout the process, clearly demonstrating that change started at the top of the organization. This effort was geared toward defining the new vision for Corning, and promoting its acceptance.
AN ENGAGING PROCESS
When the first Competes teams were established in January 1994, their mission was to engage the organization and challenge it to seek new ways of conducting business. They took a process-focused approach, examining processes that cut across the organization, delivered high value to customers and offered significant opportunity for improvement. This effort was driven by key Corning personnel who were pulled out of the organization, and assigned to Competes teams on a full-time basis in what became known as the "Donut Factory" approach (so named for an off-site team room located next door to a Dunkin' Donuts on Main Street in Corning). As businesses were initially reluctant to surrender their crack troops, this approach was first met with resistance. However, eventually Booz-Allen convinced Corning that it needed to get many of its best people working full time to develop the program.
EXHIBIT II
"CORNING COMPETES" PHASES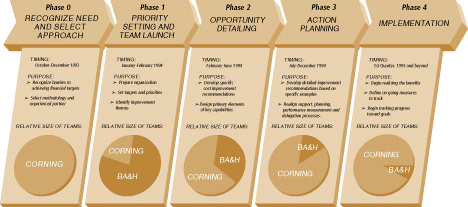 This figure demonstrates the phased approach used by the joint Booz-Allen and Corning re-engineering teams, along with activities during each stage.
Using an analytical, hypothesis-driven approach, the Phase 1 teams scanned the entire enterprise to find opportunities for improvement that would have the highest impact. When the results of the team's analyses became available, some of their findings were quite unexpected in terms of the magnitude of untapped potential. "One of our biggest surprises was the potential in manufacturing--we had always prided ourselves on what we were achieving in this area...but we put it on the list of areas to look at," a senior executive said. The teams determined that the other high-impact opportunities were in innovation, purchasing, and business and corporate roles (internal management practices).