In addition to now offering senior employees long-term contracts -- a rarity in the business -- I.L.M. has worked to create an environment in which people know they have unlimited upward mobility, where advancement can occur rapidly.
"People make transitions here,'' Mr. Morris said. "Someone with a technical background can move into a
project director function. We spend a lot of time dealing with the artists, craftsmen and technicians, trying to make sure they are fitting in, that they're happy, that they see a pathway. We want them to know there is a lot of opportunity here. It's like a frontier town for artists.''
Nevertheless, Mr. Morris said managing the creative talent is one of his biggest challenges, and at I.L.M., even computer programmers consider themselves part of the creative talent.
"Creative people have the same mix of characteristics anyone else does, but they tend to have them in greater extremes,'' Mr. Morris said. "There are some intensely creative people here who are very easy to work with; others are demanding and petulant. We try to maintain a loose and flexible culture that nonetheless has pretty solid rules. You just have to make a judgment about how much pain you can stand.''
I.L.M. pays well, but most people are there because they want to be working on movies, and they want to do it at the best shop, Mr. Morris said. "Their motivations are complex; it's not just a job,'' he said. So one thing I.L.M. does to reward people is to put them in production roles that lead to screen credits, often very early in their careers.
This tactic pleases employees, but requires a balancing act with customers, who may have expected someone more senior as their project leader. I.L.M. finesses this potential conflict by letting junior staff manage big projects, while keeping seasoned veterans like Mr. Muren and Kenneth Ralston, another senior effects supervisor, involved as advisers, even as they manage other films. For the most part, producers say promoting from within this way works well for I.L.M.
"They're good at picking talent,'' said Marty Cohen, who runs post-production for Dreamworks SKG, the studio created by Mr. Spielberg, Jeffrey Katzenberg and David Geffen. "Their supervisors tend to be two things: very visually oriented and good problem solvers. It has long been like a very big school, and you have to be not afraid to fail.''
Mr. Marshall of Kennedy/Marshall said the breadth of talent at I.L.M. and the dedicated team approach give him confidence. He knows that the people attached to his project are capable, and passionate about the job, whether or not they are the most senior.
"I know they're my team,'' he said. "There's this shorthand that's already there and a trust we have. I don't always have to have Dennis Muren, although he's there if I need him. There's always somebody working their way up as an effects supervisor.''
I.L.M. faces one challenge its competitors would love to have: how to apportion credit at Academy Awards time. Of three movies nominated for Best Visual Effects last year, two were I.L.M. projects, yet there is no way for everyone involved to share in the possible awards.
"There may be 75 to 100 people credited in the movie; how do you boil it down to a couple of names?'' Mr. Morris said. "There's always bad feelings, and there's always close calls. You try to create enough opportunity so that people don't see it as their last chance.''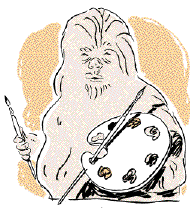 One measure of the success of the processes Mr. Morris has put in place is that many creative people at I.L.M. remain only partly aware that a structure exists. They speak with an ironic satisfaction about a consulting firm hired some years back to improve the company's efficiency, only to leave in frustration.